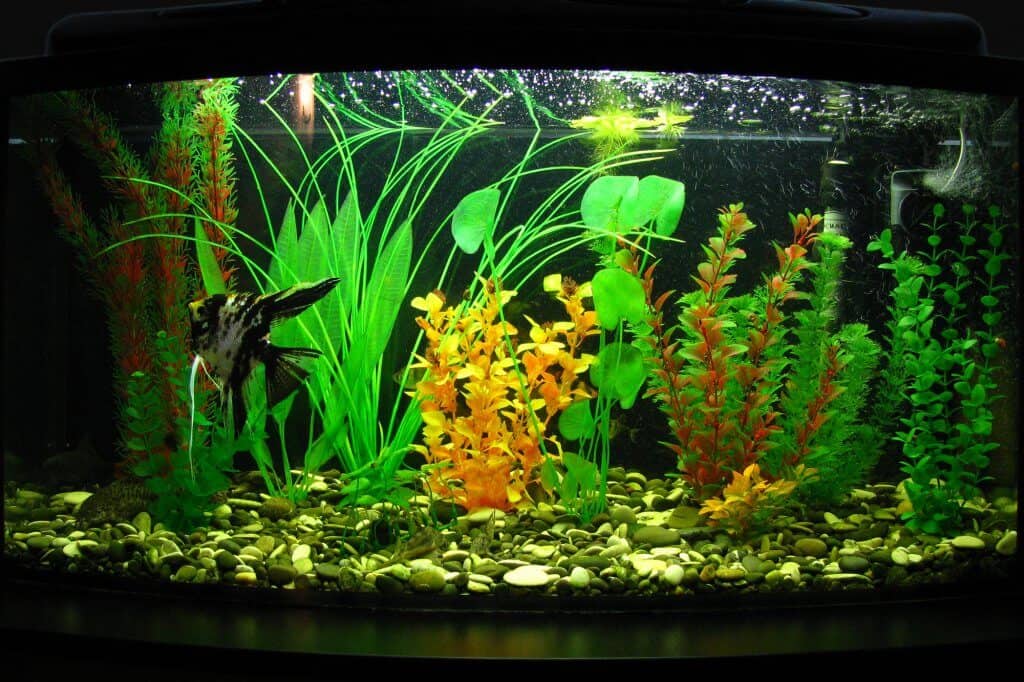 When we think about aquariums, we usually consider large, rectangular tanks that have predominantly flat sides.
You may also think that this aquarium design is best. After all, a flat panel would give a much more accurate view than a possibly magnifying design.
However, fish and aquarium enthusiasts are now looking toward bow front models.
This is a design where the aquarium has a front that curves in the center. The result is a smooth look that's also aesthetically curved.
With the bow front look, an aquarium seems deep. It's also unique and serves to wow viewers more than the traditional kind.
However, before anyone starts thinking about purchasing a bow front aquarium, there are many factors they should consider.
These include the pros and cons of bow front aquariums as well as the sizes available in the market.
Pros and Cons of Bow Front Aquariums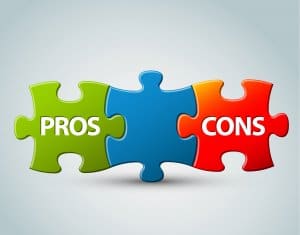 As with many other items of this kind, there are several ups and downs to acquiring a bow front aquarium.
We'll first look at the pros in order to get an idea why many people may want to consider getting such a design. Since there are definite disadvantages in the mix too, it only makes sense to consider them as well.
Pros
Bow front aquariums create a sense of tank depth. This allows for the creation of several different aquascapes than is possible with a traditional flat-sided aquarium.
They allow one to view the inside of the tank from various angles. Viewers would, hence, be able to see many perspectives instead of just a few and thoroughly enjoy the experience of watching fish.
The curving of the tank means that the whole thing can fit neatly and compactly into an average space. Even if the tank is a very large one, it would still take up less space than a traditionally-shaped tank with a similar volume capacity.
They have a more unique look than the traditional kind since these aquariums are not commonly used.
If you prefer to use inner lighting for your aquarium, the bow front tank would enhance the result more than a rectangular one.
Some fish enthusiasts would prefer to have their fishes magnified. This would give them a chance to better study their pets as well as interact with them.
Cons
The curved front of a bow front tank would mean that it's less easy to take proper, clear pictures of the wildlife inside. The owner may take pictures from the sides or top, but the large front would provide a challenge and possibly make the pictures less impressive. This is mainly due to the light distortion and light bending that the curve provides. However, this is only in cases when the subject is at the back of the tank.
Potential buyers should consider the width of a bow front tank as well as the depth and volume. Some tanks are known for being too skinny for the fish's comfort.
Bow front aquariums are usually more expensive than the traditional kind. The latter is cheaper and more familiar for manufacturers to churn out, so this factor is not at all surprising.
There's usually less space in a bow front aquarium, so there would also be fewer fish and plants that can be safely kept inside it.
Some bow front aquariums could be skinny in width but longer in length. This would severely limit the number of fishes you could keep at each level. The general rule of thumb for one gallon per fish may need to be tweaked and recalculated in order to allow for this difference.
Who Is a Bow Front Aquarium For?
A bow front aquarium should be your first choice if you're looking for a beautiful aquarium that creates an impression.
Even when it's not full of animals yet, this aquarium is a sight to behold! When placed on top of a decent cabinet, the effect could be amazingly attractive. It's an excellent purchase for a hobbyist, no matter which level they're on at the moment.
Even a novice fish enthusiast can get a bow front tank and set it up without any issue.
They'd usually get everything they need in the kit they purchase. However, if an expert aquarium keeper wants to invest in a bow front tank, they can get the accessories separately. This would allow them to customize and set up their aquarium as they see fit.
Sizes of Bow Front Aquariums
The smallest bow front aquariums could be as tiny as a single gallon. If you're willing and able to customize your purchase, they can go to extremely large dimensions.
The standard sizes, though, are available easily and usually include the following ones:
16 gallons with dimensions measuring 20.3 x 12.9 x 17.8 inches
26 gallons with dimensions measuring 24.2 x 14.8 x 20.9 inches
36 gallons with dimensions measuring 30.3 x 15.5 x 20.9 inches
46 gallons with dimensions measuring 36.4 x 16.4 x 21.9 inches
54 gallons with dimensions measuring 39 x 27.4 x 23 inches
72 gallons with dimensions measuring 48.4 x 18 x 23 inches
Differences Between Bow Front and Flat Aquariums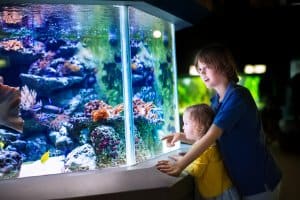 You might be the current owner of a flat aquarium and on the lookout for a more modern, useful, and unique upgrade.
Then again, you may be looking to add to your collection of aquariums or even be searching for your very first aquarium.
Whatever the case may be, you should be aware of the differences between traditionally flat and bow fronted tanks.
Both options have something unique to offer, even if their setup and function are similar. We'll be taking a look at these differences below:
Flat tanks usually have a rectangular or cube shape.
Both kinds of tanks are suitable for saltwater and freshwater varieties. They also both function with lighter, filters, and heaters if needed.
Smaller spaces like offices and apartments would probably benefit most from the purchase of a bow front aquarium. It usually has a more compact footprint than the rectangular kind. With large living rooms, flat aquariums can be easily accommodated along with any stands that might be necessary.
With a bow front aquarium, a larger stand would be required in order to accommodate the bulging middle. This would also need to be more specific as it needs to take the special shape into account.
Flat aquariums are usually made from glass and acrylic materials. The same goes for bow front aquariums, but the curved front may mean a more difficult manufacturing process.
Bow front aquariums give a distorted view of the fish inside. However, some fish enthusiasts and hobbyists actually prefer this factor since they can better see and interact with their pets. Some may prefer the flat front since it doesn't distort their view of the inside, no matter where they stand.
It's easier to take beautiful, clear pictures of the fish inside a flat tank. With a bow front one, you might need proper photography equipment and experience in order to make sure the results come out perfectly.
After all this knowledge, if you've decided that a bow front tank would be the best option for you, read on below! There are several options for such aquariums on the market today. We'll walk you through the best of the lot and help you make the final decision.
The bow front aquariums reviewed below are all sure to make an amazing home for your fish:
Top 3 Recommendations
Preview
Make/Model
Aqueon 17774 Mini Bow 5 Gallon Desktop Aquarium Kit, Black
Aqueon 06439 Bow Front Aquarium Kit 26, Black
Preview
Make/Model
Aqueon 17774 Mini Bow 5 Gallon Desktop Aquarium Kit, Black
Preview
Make/Model
Aqueon 06439 Bow Front Aquarium Kit 26, Black
1. Aqueon Mini Bow Desktop Aquarium Kit
If you're just starting out with fishkeeping as a hobby, this handy kit could be one of the best options for you.
A beginner would certainly find everything they need in this kit to set up their very first bow front aquarium. Betta owners especially adore this option, but a beginner should stick with just one fish at a time.
This kit would result in an aquarium that's small and compact and can fit in just about every corner you like.
It may get lost in a larger space, so pair it with several others or place it in a smaller area where one can appreciate its beauty. If you're currently residing in a tiny apartment or even a dorm room, this bow front aquarium could add an elegant, radiant touch without taking up a lot of space. Not to mention that it'll make an awesome addition that your roomies would definitely appreciate.
Product Specifications
Dimensions measure 14.5 x 13.5 x 10 inches (L x H x W)
Material: Acrylic
Incandescent bulb with 15W power
Filter included
Aquarium's light hood colors include black, bright blue, or red
Water conditioner included
Complimentary fish food included
Printed guide included
Capacity: 5 gallons
Pros
Everything is provided, making setup easy for beginners
Guidelines included for proper setup and maintenance
Cleaning the tank is relatively easy
Perfect for small spaces
Provides a larger view of the tank's interior than a flat tank with identical capacity
Cons
The light included would eventually have to be changed. This could prove challenging for a novice
The filter requires some adjusting or else it gives off quite a strong current
Could prove challenging to use if the user is a photo enthusiast
2. Tetra Half Moon Aquarium

This kit has a half-moon style, just like its name claims. However, the half-moon here doesn't just represent a curved front on an otherwise rectangular tank. No, it literally represents a proper half circle, where there are no sides, just the back. With this tank, you get a completely unique design that would be hard to find anywhere else right now.
The maximum this tank can accommodate is 10 gallons, which is a decent size for both beginners and experts. You can keep bettas, tetras, and even mollies in there and light it up with the LED lighting setup.
The 50W heater would keep your fish comfortable at the proper temperature even if you live in a cold climate, and the clear lid would keep any naughty fish from jumping out!
Product Specifications
Capacity: 10 gallons
Filter included
Half-moon design with no sides
Heater functions with 10W
LED lighting setup included
Clear lid
Suitable for betas, tetras, and mollies
Dimensions measure 18.5 x 12.6 x 20.8 inches
Pros
Suitable for a wide array of fish
Unique design to create that 'wow' factor
Magnifies interior of aquarium for easy viewing and better interaction
Compact footprint due to its tall size. It can, hence, still be installed in small spaces and structures
Comes equipped with a heater and filter in the kit
Lid provided is clear for proper viewing without the risk of any fish jumping out
Cons
This bow front tank is on the narrow side. It would, hence, limit the number of fish you want to keep for each level
The clear lid is deemed flimsy by some customers. Some have even thrown it away by mistake
3. Aqueon Bow Front Aquarium Kit
This tank can contain up to 26 gallons, which is a nice option for those moving forward with this aquatic hobby. It comes with not only a filter but also a large cartridge that will last for a long time. The heater is immersible and strong enough to keep everything at just the right level.
For lighting purposes, you get a full-spectrum lamp that's also hooded for more focused distribution. When you get this kit, you get just about everything you would need in the same package. Order this one, and you won't have to go shopping later. It's also perfect for those fish hobbyists who want to upgrade to a better, larger, and more technological setup.
Be warned, though; this aquarium is quite a heavy one! You may want to call in a neighbor or friend to help you set it up.
Product Specifications
Capacity: 26 gallons
Dimensions measure 25.9 x 22.7 x 17.1 inches
Include an immersible heater with 50W
Hood comes with a full-spectrum lamp
Filter has a large cartridge included
Weight: 44.2 pounds
Pros
Includes everything a novice could need such as fish food and water conditioner
Water conditioner would make even tap water safe for fish
Fish food provided is premium quality and contains all-natural ingredients
Beautiful aesthetic appearance
Relatively larger size that can hold more fish, plants, and decorations
Mostly positive reviews online
Easy to assemble and maintain throughout the years
Includes guidelines for setting and taking care of the tank
Comes with several powerful features and accessories that negate the need for any additional purchases
Cons
Some complaints about careless packaging
A bit heavier than most users would prefer and may require extra help to set up
4. SeaClear Bow Front Acrylic Aquarium Set
SeaClear 46 gal Bowfront Acrylic Aquarium Combo Set, 36 by 16.5 by 20", Clear
Combo includes aquarium, reflector and electrical 24" light fixture
Convex shape enhances the view; You won't believe how your fish and decorations will pop!
Acrylic aquariums are clearer than glass, 17 times stronger, and only half the weight!
More impact resistant and less prone to chipping or cracking than glass, making it safer around children and pets
Safe for Salt or Freshwater. Fixture is compatible with any T8 or T12 24inch fluorescent tube
This unit may not be among the tallest ones, but it does give a large capacity of 36 gallons. It also has a light fixture measuring 24 inches, where the user can install a light of their own choosing. This is a nice feature that allows for easy customization since the fixture also comes equipped with a handy reflector. However, there's no filter or heater included.
This tank is recommended for those who have had some experience with tanks before and know their own lighting preferences. If they're shifting a colony of fish from an old tank to this one, the heater and filter may already be on hand. You'd do well to choose this tank if you have several different varieties of fish since it has the space and volume to hold them all.
Product Specifications
Dimensions measure 30 x 15 x 21 inches
Material: Acrylic
Includes electric light fixture that's 24 inches long
Light includes reflector
No filter or heater included
Capacity: 36 gallons
Light fixture is compatible with T12 or T8 24-inch fluorescent tubes
Pros
Enables users to keep several varieties of fish in one tank
Exceptionally durable and would last for years
Convex shape in front enhances inside view
Acrylic material provides a clearer view than glass. It's also much stronger and lighter
Resistant to impact, chipping, and cracking and safe to have around kids and pets
Suitable for both saltwater and freshwater varieties
Cons
Not very tall, so may not hold room for several different levels of fish
Heater and filter not included and have to be purchased separately
Rudimentary lighting, which might need to be supplemented
Acrylic material would get permanent scratches if proper care isn't taken while cleaning
5. SeaClear System II Bow Front Acrylic Aquarium
SeaClear 46 gal System II Bowfront Acrylic Aquarium, 36 by 161/4 by 20", Cobalt Blue
SeaClear System ll Acrylic Aquarium offers a true wet/dry biological filtration system built into the back of the aquarium
Filter includes chambers that accommodate biological, mechanical and chemical filter media as well as space for a heater and the optional System II Protein Skimmer (sold separately)
Full Hood with 24" fluorescent fixture (light bulb not included); Efficient and economical to run
Acrylic Aquariums are 17 times stronger than glass and weighs half as much as a Glass Aquarium
Quick change prefilter makes cleaning simple; Air-injected nozzle
This 46-gallon tank is one of the largest on the market and one of the best for experienced aquatic enthusiasts. Its large dimensions mean that it would be best set in a huge living room or TV lounge. The filter system is highly decent with space provided for chemical, mechanical, and biological filters.
The main gripe many may have about this tank is that it doesn't come with many accessories. That's mainly because this is an aquarium and not a complete kit.
Those who are more experienced with fishkeeping would love that there are spaces provided for a fluorescent bulb (around 24 inches) as well as many other additions. This would allow them to customize their tank as they see fit. Those who are beginners in this area, however, may not want this bow front aquarium as their first choice.
Product Specifications
Includes Turbulence Manifold technology
Includes 420 gph submersible pump
Comes with a skimmer gate that's adjustable in 4 ways
Air-injected nozzle included
Capacity: 46 gallons
Dimensions measure 36 x 16.2 x 20 inches
Pros
The filtering system provided is reported to be highly efficient
The Turbulence Manifold addition is an excellent water circulation feature
Comes with a powerful filter system
Provides spaces for several additional accessories
Lightweight at only 20 pounds
Huge size and capacity, allowing it to keep several varieties of fish, plants and decorations
Light can be upgraded
Easy cleaning due to the quick-change pre-filter
Cons
The accessories are not complete, so you would need to buy several items separately in order to unleash the full potential of this tank
On the expensive side
Too pricey and complicated for complete beginners
Acrylic material could be prone to scratches while cleaning
Takes up a lot of space
6. Aqueon Deluxe Bow Front Aquarium Kit

If you're on the lookout for a unique-looking aquarium for your fishy friends, you can't do better than the Aqueon Deluxe Bow Front Aquarium Kit. It has a curved glass panel at the front that magnifies everything inside. This could make some pictures come out wonky, but the aesthetic effect still remains!
The silicone seals are a classy black color, making for a contemporary, modern look. The filter is quiet, which means you can place it in any room without worrying about noisy distractions.
All of this is lit up by an LED light in a strip form. The strip itself has a day lap in white, but there's also room for an additional lamp if you wish for it. Thus, this aquarium is customizable as well as a whole package deal in itself.
Product Specifications
Available in three sizes (16, 26 and 36 gallons)
Includes a full-hood LED with a low profile
Material: Glass
Dimensions measure 20.8 x 24.2 x 14.75 inches
1 LED lamp included
One slot provided for an additional LED lamp according to the user's preferences
Comes with black silicone seals
Includes QuietFlow Power Filter, immersible preset heater, sample of premium fish food, filter cartridge, and a sample of water conditioner
Guidelines for setup provided
Fish net and thermometer provided
Pros
The fully-hooded LED light provides a brightly lit output
Curve at the front makes for an in-depth, fascinating viewing space
LED lamp provided is energy-efficient
User has the option to install a night light or increase the lighting output
Unique look
Provides a deep water level that fish would be sure to appreciate
Filter system is quiet
Cons
Curving of glass front may uncomfortably reflect existing light in the room
7. Aqueon MiniBow Aquarium Starter Kit
Aqueon LED Minibow Aquarium Starter Kits with LED Lighting, 5 Gallon, Black
Compact fish tank with a contemporary design and elevated base
Simple to setup and maintain, looks great in any room
Sleek, low profile LED energy efficient light hood with feeding hole
Includes Aqueon QuietFlow filtration as well as food and water care samples
Ships in its own container for protection against scratches and breakage during shipping
Uses Aqueon small filter cartridges
Gone are the days when fishkeeping novices had to make do with a rudimentary bowl for their first bettas. The MiniBow is a starter kit where anyone can house their beginner bettas without worrying too much. Here, you'll get an attractive, elegant habitat that's worthy of being given a place of honor in your home décor. There are even some food samples and water care samples to get you started without going through the hassle of shopping in the very beginning.
Customers have even seen fit to purchase several of these aquariums, one each for their betta fish. The 2.5-gallon environment is just right for one fish, and the filter is quiet enough to have in your bedroom. There's also a light provided so that you can watch the fish as a meditation ritual before you go to sleep. All in all, this tank is an excellent one to get started and train yourself on the proper ways of fishkeeping.
Product Specifications
Capacity: 5 gallons
Available in 1-gallon, 2.5-gallon, 2.5-gallon betta and 5-gallon sizes
Available in black, blue, and white colors
Elevated base
Light hood has a low profile and is equipped with a feeding hole
Comes with QuietFlow filtration
Requires Aqueon small filter cartridges
Dimensions measure 15 x 10.67 x 15.44 inches
Pros
Available in several sizes
Compact and modern design
Easy setup and maintenance
Beautiful appearance and suitable for any room
Light hood is sleek and energy-efficient
Comes with water care and food samples
Comes in protective container
Bright LED lights offer a crisp look to the interior
Excellent for guiding new betta owners on the right kind of care and maintenance
Cons
Some users may not be satisfied with the level of distortion from the curved front
8. Fluval Bow Front Aquarium Kit
This Fluval Aquarium Kit is one that provides a lot of options for both novices and experienced enthusiasts. It has the lighting, power filter, and heater already included, but you would have to buy gravel separately if required. The features that it does include offer excellent quality and are equipped with cutting-edge technology.
Overall, this tank is one of the bigger ones, so make sure you have the space for it! You'll get a setup guide that would tell you everything you need to know about the maintenance and care of this item. A thermometer would enable you to tell when the water temperature is just right. With the complimentary protein-rich food provided, you can start your fish on a healthy diet from day one.
You'll be able to enjoy your aquatic friends to the utmost with everything that this kit provides. Plus, you can upgrade it as and when you see fit.
Product Specifications
Weight: 104.2 pounds
Capacity: 45 gallons or 170 liters
Matching cabinet can be bought separately
Fluval water treatments are provided
Includes net, care guidebook, thermometer, and food that's rich in protein
Dimensions measure 36 x 16 x 20 inches
Includes Fluval's C4 power filter
LED light disperses 1470 Lumens and 8,000K
Pros
Great value for the price
Includes heater with shock-resistant glass
Heater is immersible and uses mirror technology to blend in
Beautiful appearance
Kit provides almost everything needed to get started
Includes canopy LED light that's ideal for aquarium life (can be upgraded to a double light strip)
The powerful filter is one of the best in the aquarium market
Cons
No gravel provided
No blue light provided for the night
9. BBT3 Twin Betta Bow Front Aquarium
Are you the owner of a pair of betta fish? You may have to get a two-compartment tank to keep them apart. It's risky to keep them together, so this BBT3 Twin Betta Bow Front Aquarium is a great solution. It provides any fish enthusiast with everything they need to set up a flourishing home for their fish while keeping them safe from the surroundings as well as each other.
You can choose to use the opaque divider in order to visually separate the fish and move onto using the clear one once they've grown used to the tank. This would enable them to flare better.
This kit is also excellent for beginners because of its EZ Clean system. The lid lifts easily, the water release cap makes for easy water changes, and the filter grid would do half the work for you! The tank itself is small enough to be put on a side table on dresser, so you don't have to worry about buying a separate, potentially expensive stand. All in all, this tank could be an excellent gift for someone who adores fish but is still new to this kind of hobby.
Product specifications
Weighs 14.7 ounces
Dimensions measure 8 x 4 x 6 inches
Material: Acrylic
Includes EZ Clean system
Includes a clear divider and a blue divider
Along with the tank, the kit includes two plants, two dividers, and 4 ounces of gravel
Pros
EZ Clean system includes a useful filter grid, a cap for convenient water release, and an EZ-Lift lid
Clear divider promotes the interaction of fish without any risk
Excellent for new owners of a betta fish pair
Clear division of bettas would promote the natural flaring of their fins and gills
Cons
Not many customer reviews online, which could lead to confusion about how this item fared with experienced customers
10. Penn Plax Betta Bow Front 2-Compartment Aquarium
This is one fish tank kit that promises a whole lot in one go! Not only does it give you a clear view of your fish thanks to the acrylic material, but it also provides Pro-V crystals that can help absorb their waste. The filter grid is also a highly useful feature for making maintenance easier and less time-consuming. There are even plant pins provided to keep your plants in one place!
Since you shouldn't keep more than one betta in one tank, the divided compartments are an excellent addition. You're essentially getting two tanks in one! The bottom drain would also allow easy and quick water changes.
If you're just starting out with a pair of bettas, this is one of the best tanks available with a bow front to keep everything magnified. There's even some gravel provided so that you're all set to go ahead with your fishkeeping.
Product Specifications
Tank measures 7.5 inches on the front and 6 inches on the back
Includes a blue shield that divides tank into two
Dimensions measure 3.85 x 7.75 x 6 inches (D x W x H)
Includes EZ Clean system with EZ-Lift lid
Includes water-release cap
Divider is removable and opaque
Pros
Cleaning system includes a filter grid that's unique among tanks in a similar price range
Cap for automatic water release makes it easier to change water when necessary
Makes it easier for betta owners to keep different kinds of fish without any risk
Divider can be removed for more space
Convenient for beginner betta owners
Enables easy transportation of fish
Con
Some users are not happy with the space provided
No filter included since the total capacity is below a gallon
Decorations included may not be safe for bettas
Bow Front Aquariums FAQs
Even with all the information above, some budding aquarium keepers might still be confused about whether they should go for a bow front tank or not.
There are, of course, several more questions to be answered. We'll strive to answer some of the most common ones below.
However, make sure you're also informed of your own budget and requirements and the needs of your fish before you buy a bow front aquarium.
1. What should I know about moving my fish into a bow front aquarium?
Moving your fish community and plants into a new tank is going to be challenging, no matter what kind of aquarium you choose. In any case, you should know what your budget is, the lifestyle you are aiming for, and the available space you have at the moment.
2. What would be the expected price of a bow front aquarium?
The price of a typical bow front aquarium would usually be higher than a traditional flat one even if the capacities are the same. You should, hence, be prepared for this eventuality and make sure your budget can withstand the purchase.
Apart from the aesthetic look and price, though, there isn't much different about a bow front aquarium. You can save money by using the same kind of water heaters and filters that you've used with your previous aquariums.
3. What kind of stand should I have for my bow front aquarium?
Bow front aquariums usually need a special stand. More specifically, they need a stand that can support their whole weight and accommodate their front arch as well. Make sure to try out a stand before you make a purchase. If possible, always choose a stand that has a reliable warranty in case it doesn't fit or support your bow front tank properly.
4. Can I use my existing furniture (such as a table or TV stand) to hold my bow front aquarium?
It's not recommended to use regular pieces of furniture like TV stands or dressers to hold large bow front tanks. This is because they would weigh a hefty amount on their own as well as when filled with water.
5. Should I get a bow front aquarium kit or just the aquarium on its own?
When buying bow front aquariums, you may get a lot of choices in kits or bundle packages.
These usually come complete with water filters, heaters, lighting, and perhaps even some samples of fish food, water conditioner and gravel. Purchasing a kit could be very convenient since you get everything in one bundle. This choice is, hence, best for those who are still novices at fishkeeping and buying an aquarium for the first time. It would reduce the number of mistakes you make at the start and keep your fish safe as well.
If you're more experienced at keeping fish, you may just want to upgrade the tank itself. You may not need more of the same equipment. Even if you do, you probably have a better solution than the ones that come in a kit. Buying just the bow front aquarium would enable you to get your own accessories. This may be a hassle and confusion for those who are just starting out but an enjoyable part of the hobby for expert enthusiasts.
6. What size of bow front aquarium should I start out with?
The size of the aquarium you start your hobby with would depend on the number of fish you wish to or already have. At the very least, there should be a gallon of water in the tank for one fish.
Hence, buying the smallest size of bow front tank wouldn't be a worthy investment if you mean to take your hobby to the next level soon. Your upgrade would mean wasting the money you spent on a small bow front. If you just want a couple of fish for the next few years, a small bow front tank would be an excellent purchase that could brighten up small rooms and offices.
If you want to make an impressive display in a large area, go for the largest sizes possible. Alternatively, you could buy several small sizes.
However, their upkeep would require quite a bit of effort. We highly recommend that you get a large bow front tank in order to make a stunning show in your living room or hall. It would require less equipment and upkeep in the long run.
Have more questions?  Be sure to visit our community forums.