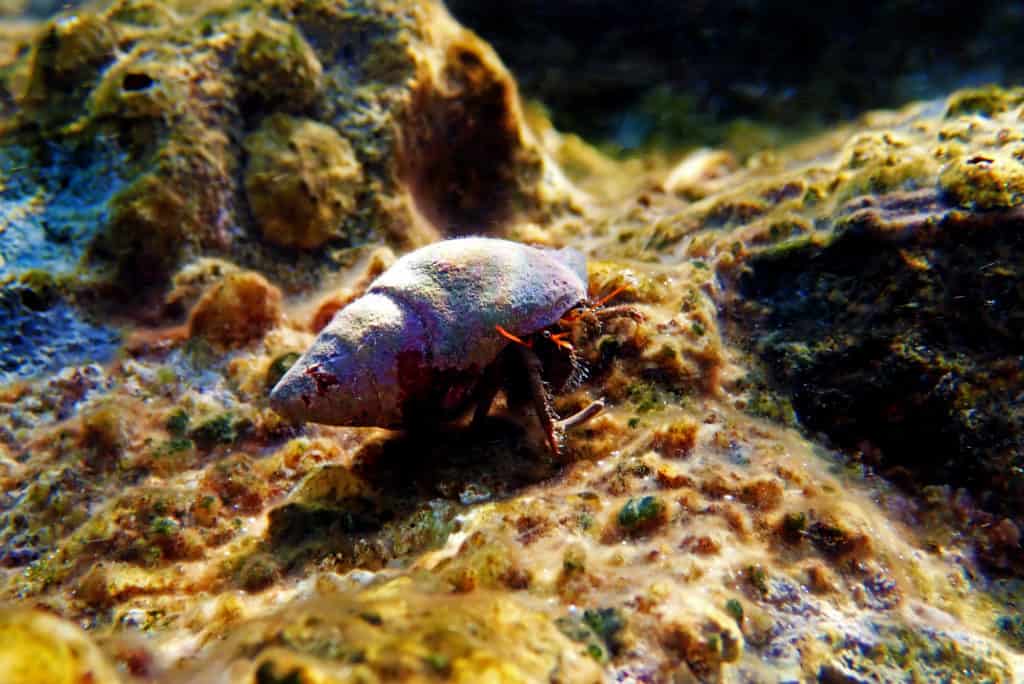 If you are looking to add to your aquarium clean up crew or to add an interesting new creature to your tank, you might be thinking about a hermit crab.
However, they have some very unique qualities, attributes, and habitat requirements.
It's important to know how much space they will need in the aquarium.
How Many Hermit Crabs Per Gallon?
The general rule of thumb for deciding on the number of hermit crabs is 1 per gallon.
The next thing you will have to consider is the size of the Hermit Crab that you are buying.
It is also important to know the type of hermit crab species that you are buying for your tank.
Some types of hermit crabs are more aggressive than others.
If there is not adequate food in the tank, they may attack each other.
You can hold a lot of Hermit Crabs of various sizes together as long as your aquarium is big enough to allow it.
In a 20 gallon aquarium, you can easily put 10 tiny, 6 medium-sized or 4 large Hermit Crabs.

Hermit Crabs – A Brief Introduction
Hermit Crabs are not like the 'real' crabs.
The physical appearance as well as living habits differentiate them from regular crusty crabs.
The scientific name for Hermit Crabs is Paguroidea. Being omnivorous, Hermit Crabs consume both greens and insects or mussels.
On an average, a Hermit Crab can live up to 40 years in the wild.
Hermit Crabs tend to live in huge herds in the wild.
There are more than 800 currently existing species in the world.
Most people assume them to be ocean dwellers, but a lot of these species are semi-terrestrial and can live on both land and in water.
The Hermit Crab does not belong to the real Crab family just like Blue Crabs.
The reason is that these little creatures do not particularly have a rock hard external skeleton called 'Exoskeleton'.
Instead, these crabs have a half-and-half body.
The front half has a hard exoskeleton whereas the back half is soft and similar to a snail.

Hermit Crabs In The Aquarium
Now, being small and low-maintenance, Hermit Crabs do make for a great cleanup janitor for the aquarium.
But there are really important things to know before buying a Hermit Crab.
Hermit Crabs have really distinct personalities.
They can be very curious or sometimes really active.
They tend to protect the soft part of their body with discarded shells from other animals like snails.
This is what actually gives them the name.
In different parts of the world, people keep different types of Hermit Crabs as pets.
Some important notes about hermit crabs:
Hermit Crabs can grow up to 6 inches.
In aquariums, they can live for 10 years or more.
It is preferable to keep the species which live on land.
Hermit Crabs are easy to handle and take care of but they bite if triggered, threatened or scared.
Their shell changes as they grow.
Secondary Considerations for Deciding the Number of Hermit Crabs
Other than the size of Hermit Crabs and their habitat i.e. the aquarium or tank, the secondary considerations include the noise made by Hermit Crabs and their temperament.
By temperament, we mean their resilience and patience towards fellow members living in the same space.
1. Croaking
The noise made by Hermit Crabs is called 'croaking'.
The pitch and volume of their noise depends upon their strength, age and size.
The noise can vary from minimal chirping to high-pitched and loud croaking.
Having too many crabs of a large size can cause noise issues as these creatures sometimes get agitated by one another due to certain reasons.
One of the main reasons occurs when one crab tries to dismantle and steal the hard shell of another to protect their soft body part.

2. Temperament
The male and female Hermit Crabs do not have much agitation towards one another.
They do not breed when kept in a confined space.
The male crabs do not tend to fight with the females.

Setting up Hermit Crabs' home and Care Tips
Following are some very important rules you need to follow when setting up the aquarium or tank for Hermit Crabs and taking care of them:
Hermit Crabs are super social and love to live in pairs or groups, so avoid having only one in an aquarium.
The aquarium should be covered to prevent the crabs from escaping.
While molting, Hermit Crabs burrow into gravel or soft rock. Thereby, put a layer of sand or gravel at the bottom of the aquarium.
Create a hide and seek place in the tank.
The terrarium or tank should have enough light and humidity. It's best to keep a strict check of these measures.
Hermit Crabs eat slowly and usually at night. Always feed them powdered or pellet-like food.
Hermit Crabs hate metal. They are super sensitive to metal surfaces. Be cautious about the material of food containers, terrariums and other fixtures inside their living space. It is wise to use ceramic or any other non-metallic and non-porous items.
Do not drop them on solid surfaces as it can be dangerous for them.