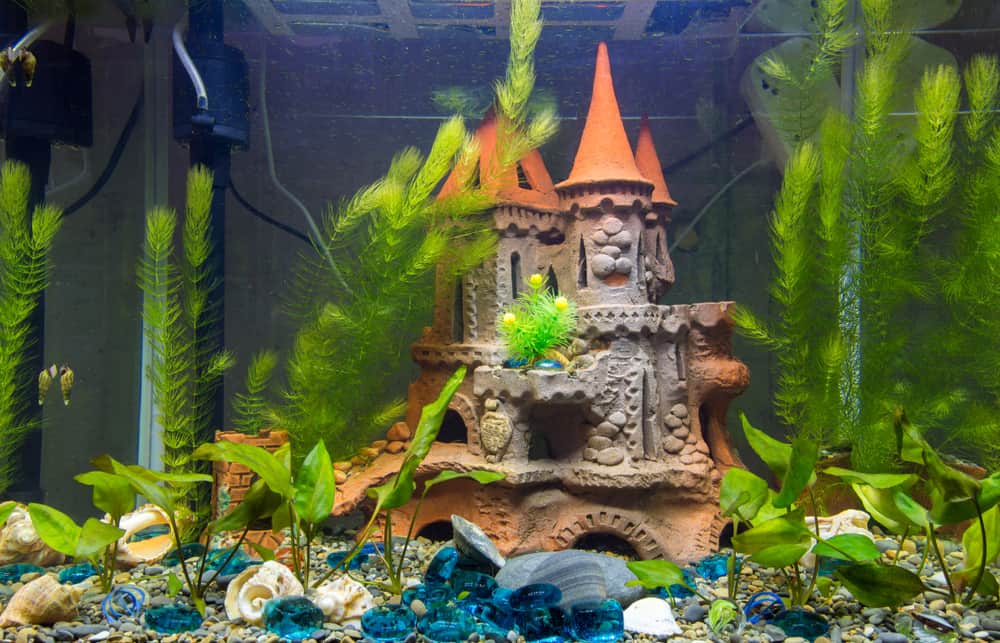 Whether you buy your aquarium decorations, make them, or collect them from nature, you should make sure they are safe for an aquarium.
You should make sure they don't dissolve in the water, don't release toxic chemicals, and don't bring along unwanted creatures and diseases to your tank.
Let's see how you can make the decorations like substrate, ornaments, rocks, and driftwood safe, and what materials you can use for aquarium decorations.
How to Make Aquarium Decorations Safe
1. Buy Decorations Designed for Aquariums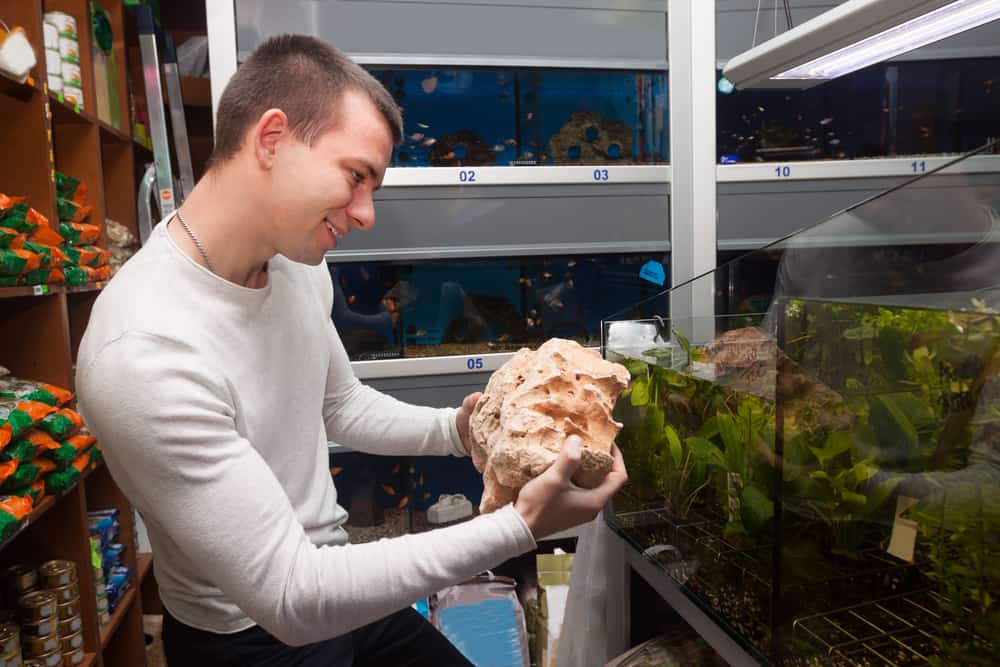 The best and easiest way of decorating your aquarium is by purchasing ornaments and decorations made specifically for aquascaping.
They're sold in various sizes and shapes, from fake driftwood, rocks, caves, and corals, to sunken ships and treasure boxes.
They may be a bit pricey, especially the big pieces, but you can rest assured that they're made of safe materials, paint, and adhesives.
When picking out decorations for your tank, consider the size of your tank because it's so easy to end up with a fairly crowded aquarium, where the fish will feel crowded.
Keep in mind the decorations you already have, the plants you're going to add, and how you want your tank to look in the end.
After buying decorations, inspect them for sharp edges which can hurt or injure your fish and cause infections.
Also, look inside the caves, and make sure everything's smooth in there.
If not, sand the edges with fine sandpaper, or use silicone to round out the rough parts.
Remember that your fish will eventually grow up.
If you buy small caves, tunnels, or any kind of decorations with holes in them, your fish will swim through them happily when they're young.
However, as your fish grow, they won't realize they've gotten bigger.
They'll try to go through the same holes as a force of habit and get stuck or hurt.
Consider the adult size of your fish when shopping for decorations.
2. Clean the Decorations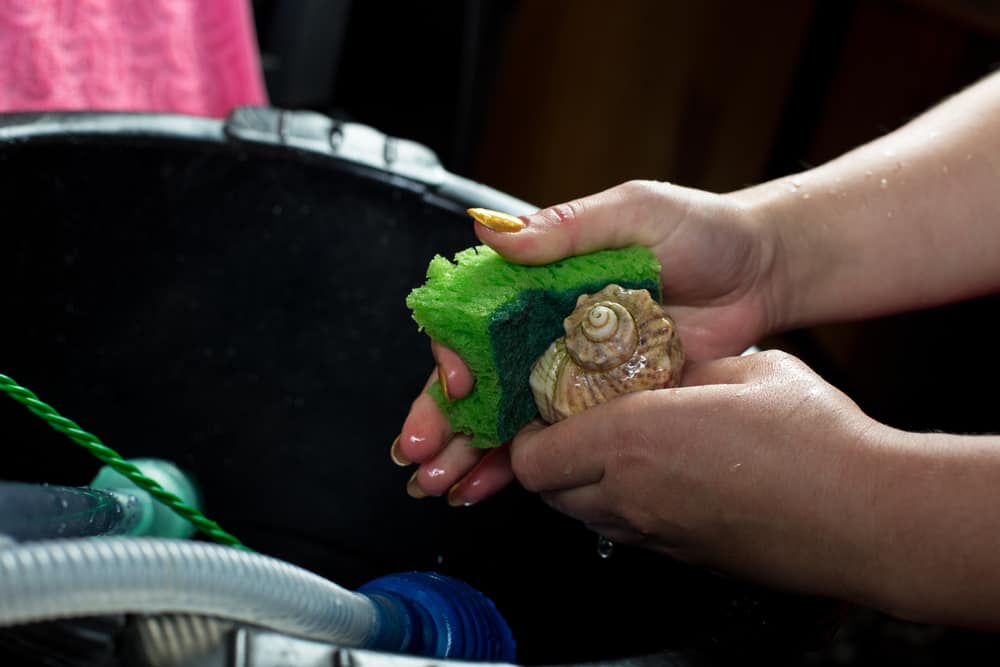 After purchasing the decorations, you shouldn't just drop them in the aquarium water.
You have to clean them properly to make them safe for your aquarium.
After you've put the decorations in the tank, repeat the cleaning process every now and then because algae and debris can build up on their surface and create an unhealthy environment for the fish.
Never use soap or chemical detergents to clean the decorations.
Even if you rinse them thoroughly, some of the soap will still get into the tank and poison your fish.
Never use household objects like buckets, brushes, and sponges which have been used for cleaning other things.
Set aside some cleaning tools just for your aquarium.
For re-cleaning the decorations, don't remove them all from the aquarium at once because you can stress out your fish by messing up their comfort zone.
Use one of the following methods to clean your decorations thoroughly and make them aquarium safe:
Boiling Water: This is the safest and most reliable method. Use a pot big enough for your decorations, pour some water inside, and heat it. Take the pot off the stove once the water starts to boil, and put the decorations in it. Let them sit for 10 to 20 minutes, take them out of the water, and scrub them with a brush. Remember, any decoration that melts or becomes disfigured in hot water is not strong enough for an aquarium.
Bleach: You can use bleach to clean your decorations if they have tough algae growing on them. Make a bleach solution by mixing ten parts water and one part bleach together. Place the items in the solution and let them soak for 10 to 15 minutes. Don't add more than 10% bleach, and don't let the decorations sit in the solution for longer because it can discolor them. Once you've removed the clean decorations, scrub the dirt with a brush, and then put them under running water for a couple of minutes until the bleach is completely rinsed off. Wait for them to dry and for the bleach to vaporize before returning them to the tank.
Vinegar : If you find calcium buildup on your decorations, make a vinegar solution and quickly remove it. Mix a cup of vinegar with two gallons of water and pour the solution into a spray bottle. Spray the solution on the surface of decorations and wipe the dirt off. Rinse, and put them back in the tank.
Dechlorinated Water: After doing any of these methods, it's best to let the decorations sit in dechlorinated water to make sure all the chlorine and bleach are rinsed off. You can put dechlorinating tablets in a clean bucket of warm water and submerge the decorations.
3. Clean the Substrate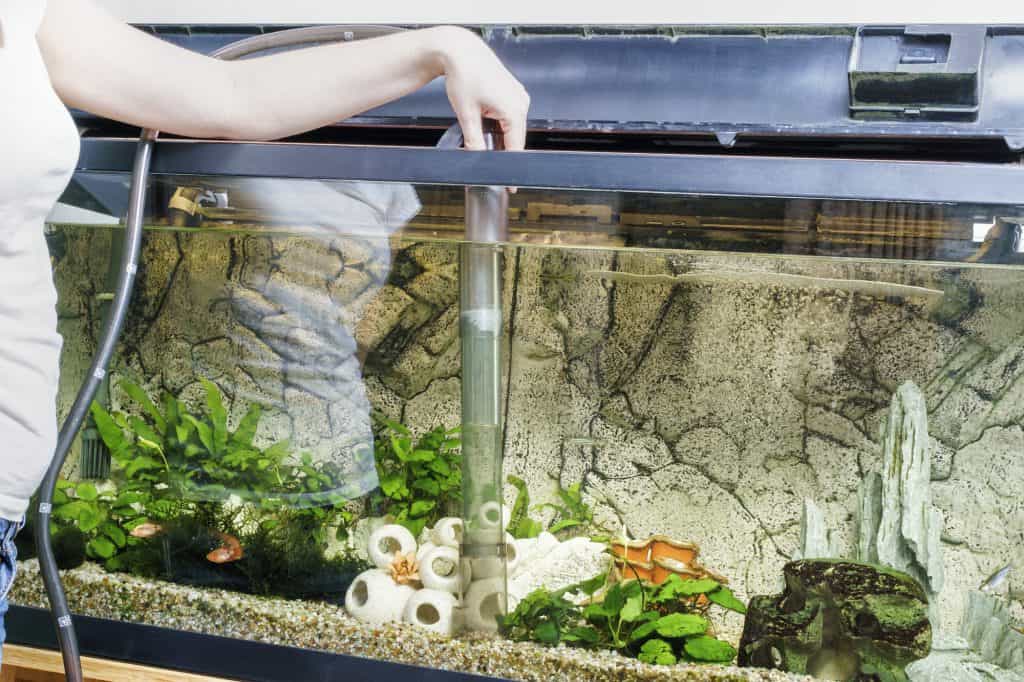 It's not such a good idea to take gravel from rivers or sand from the beach for your aquarium.
Those are usually polluted with all kinds of chemical residue, and you won't be able to clean them thoroughly enough.
It's best to just buy treated sand and gravel from a reliable place.
Colored gravel and sand can be harmful to your fish because the color may not be sealed, and it might come off after some time underwater.
Natural gravel and sand work best.
Wash your gravel and sand before putting them in the tank.
Even if the substrate is marked as "pre-cleaned" or "pre-rinsed," there'll still be some dust and debris which can poison your fish and make your tank water permanently cloudy.
To wash gravel, you could use the kitchen sink and rinse it under running water until it's clean, but the residue can clog your drains.
A better way for washing gravel is to get a clean bucket, put a big enough sieve on top, pour some gravel into the sieve, and pour water on the gravel.
Dirty water will move into the bucket, and once the running water seems clear, your gravel is safe to put in the aquarium.
You can also put the gravel in the bucket itself and spray it with a hose.
Unload the dirty water and repeat the process until the water covering the gravel is clear.
You can use the same method to wash sand, but you should also move the sand around the bucket using your hands to make sure the water gets to all parts of it.
Then put the hose inside the sand, let the water run and overflow the bucket for a couple of minutes.
Repeat the process until there's no dirt left in the water.
4. Choose the Right Natural Driftwood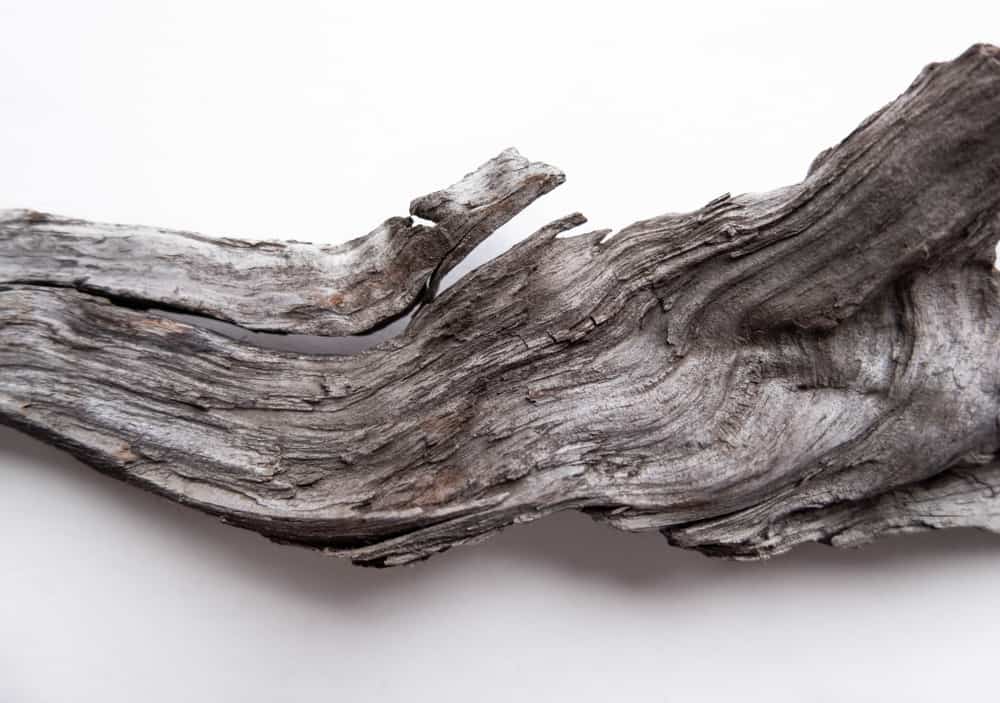 Fake driftwood is usually expensive, especially the bigger pieces.
If you want to use natural driftwood in your tank, choose the right one, and clean it properly, so it doesn't bring hitchhikers to your aquarium.
You should never take wood from a living tree.
Ideally, find wood that has been in or near moving water so that it doesn't have bugs or spiders.
Look for dead sturdy pieces without any bark left on them because the bark will eventually come off in the aquarium.
The wood shouldn't have fungus or mushrooms growing on it, and it shouldn't be decaying.
If you can easily dip your fingernail into it, the wood is decaying.
5. Choose the Right Natural Rocks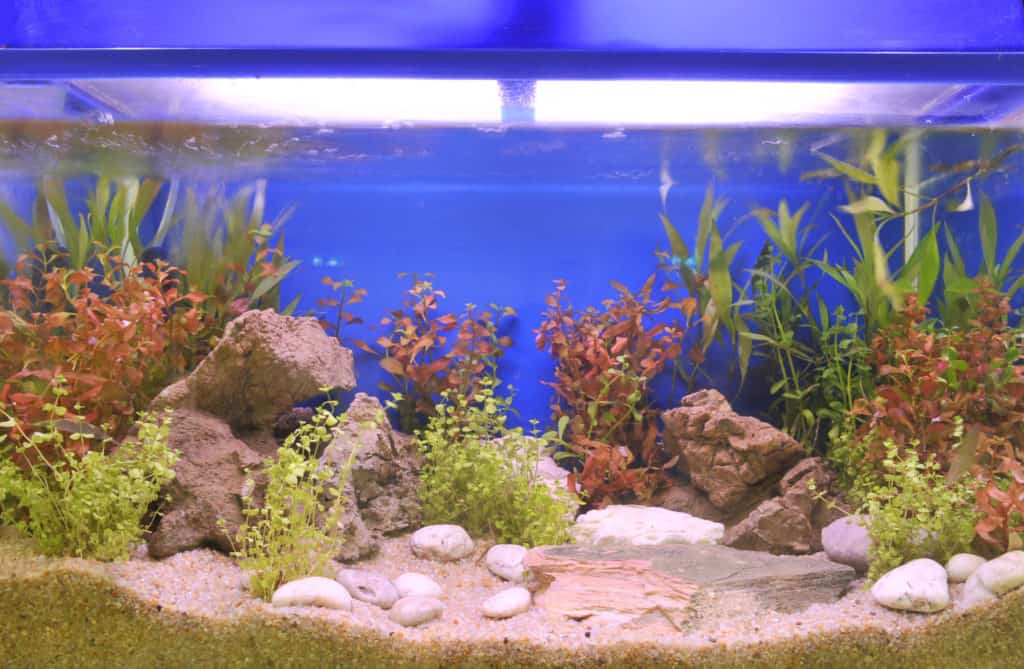 If you've decided to go with natural rocks, there are a few steps to take before you can put them in the aquarium without causing trouble.
Go to the Right Place: First, you need to find the right water body to collect rocks from. It could be a lake, river, or beach, as long as it's not near a factory which could have leached toxic chemicals into the water and made the rocks unsafe. You should also find out if it's legal to take rocks from that place.
Inspect the Rocks: Start picking out the rocks you like, and look at them under direct sunlight. Search for glittering on the rock's surface. If you find any, throw them away because they contain too many minerals.
Hardness Test: With a cutter or key made of steel, try to scratch the stone lightly. The more scratched it gets, the softer it is, and it'll probably dissolve in the aquarium water.
Test for Minerals in the Rock: For the last test, you should use either vinegar or a stronger acid like Muriatic Acid. Pour a bit of these acids on a stone. If you see the acid bubbling and fizzing, then the stone contains minerals which can change the pH in your aquarium.
6. Clean the Natural Driftwood and Stones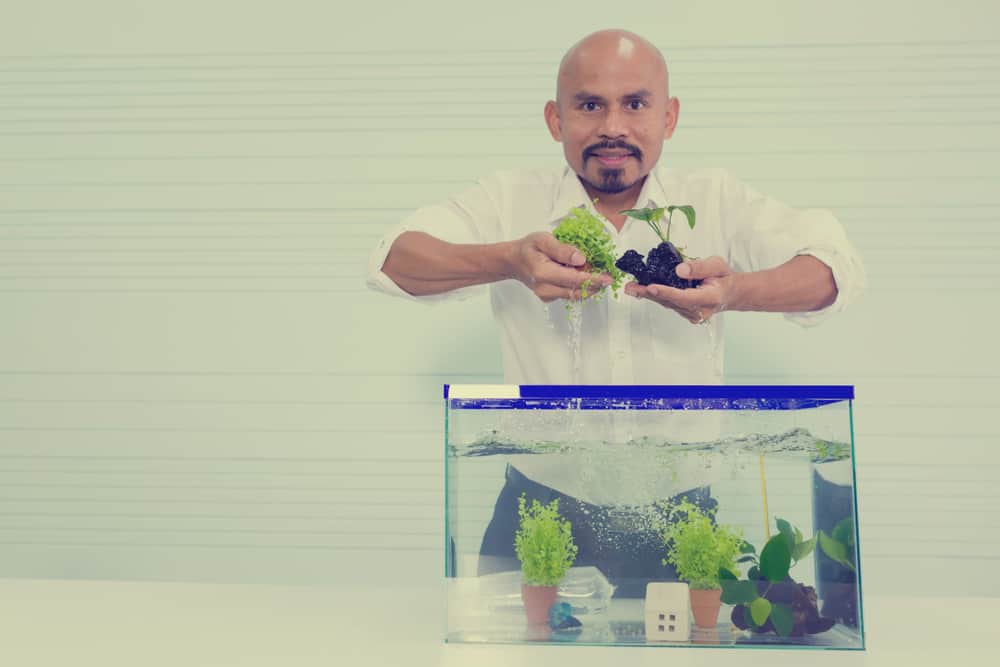 To clean what you've gathered, first, wash them with a high-pressure hose.
Then, either boil them or put them in a bleach solution.
For large driftwood or rocks, you'll need a pretty big boiling pot.
If you don't have one, you can pour boiling water on them or let them sit in a solution that's one part bleach and ten parts water.
Then, rinse them thoroughly and let them sit in the sun to dry.
You can spray the big pieces of driftwood with a mixture of vinegar, hydrogen peroxide, and water to disinfect them.
Then let them soak in the aforementioned bleach solution, and finally rinse them.
7. Use Decorations with Safe Materials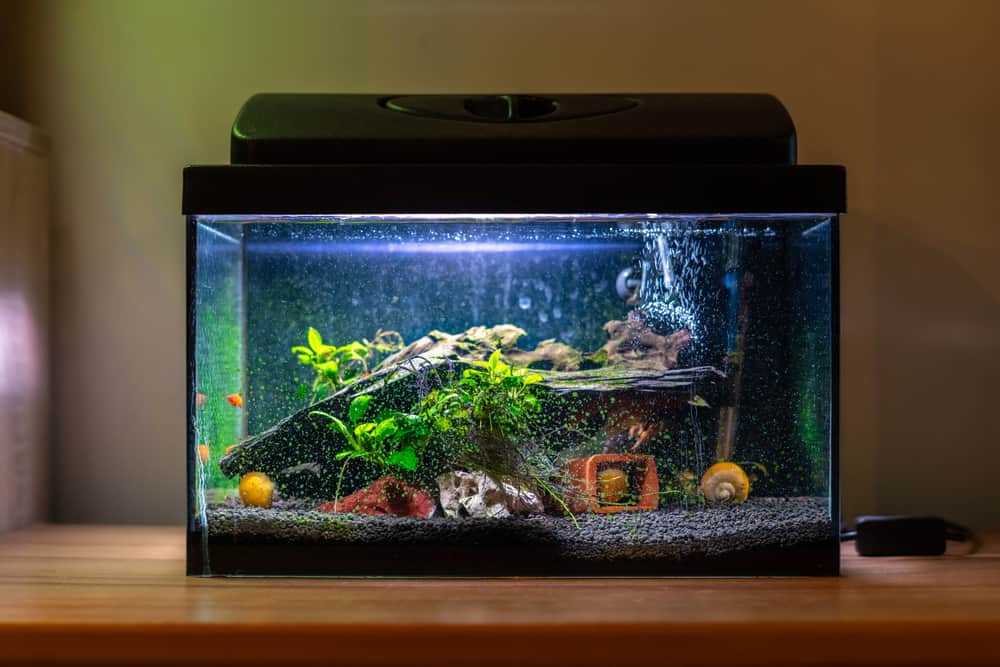 You may find a household or decorative object and be tempted to put it in your aquarium as a decoration.
Before you do that, find out what materials it's made of and if they're safe for an aquarium.
If you're trying to make your own aquarium decorations, here are the materials you can and can't work with:
Metal: Avoid putting any kind of decoration that is made of metal or with metal pieces in your tank. Metals can react with the water and release chemicals in your tank which can hurt your fish. They can have surface corrosion or even conduct electricity in the water. Even if you try to cover the metal with some other material, there's still a chance of water coming into contact with it.
Glass: Plain and clear glass is durable and can stay underwater for years and years. If the glass is painted itself, then it's safe, too. But if you find paint on the outside of the glass, you shouldn't put the object in your aquarium because paint can't stay on the glass's surface for long, and it will get scratched or chipped.
Plastic: Plain colored plastics, especially those with a food safety rating, are generally safe for your aquarium. Toys like Legos can give a distinctive look to your aquarium landscape. However, you should stay away from painted plastic and one-time-use plastics like water bottles because they can leach toxic chemicals in your tank after some time.
Polyresin: Decorations made out of polyresin are safe by themselves, but the coverage of paint on them can be dangerous for your fish.
Ceramics and Dishware: Ceramic dishware and pottery like cups, plates, or bowls can make great aquarium decorations as long as they're lead-free, dishwasher-safe, and dinnerware-safe. Make sure they're clean of soap and detergent before you put them in the aquarium.
8. Use the Right Paint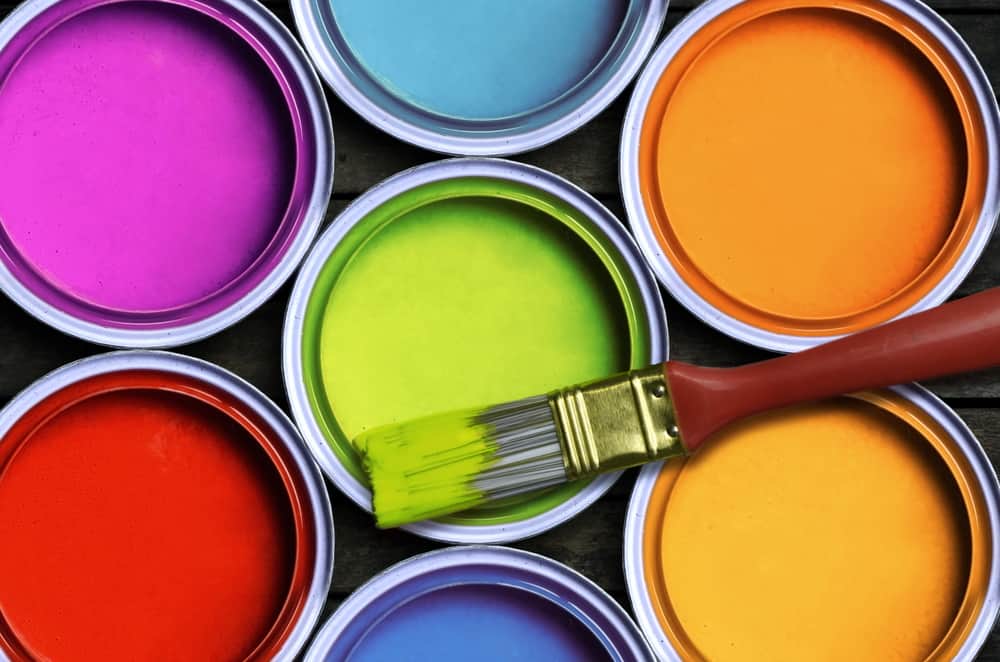 Most regular types of paint are not made to last long underwater.
They'll either dissolve in the water or bubble and chip.
The fish will mistake the chipped pieces for food flakes and eat them without hesitation, causing sickness.
You may be thinking of putting regular clear-coat paints on unsafe decorations to seal them from water.
Usually, this won't guarantee safety, as even a tiny opening or crack can let the water under the clear coat and start to chip it off.
The water will then react with the metal, mineral, or anything else that's under the coat.
Normal acrylic paints won't hold up underwater, either.
However, enamel paints are usually safe for use in an aquarium.
Clear and colorful nail polishes are usually enamel, and you can find enamel spray paints, too.
Waterproof paint used for pools is usually sold in large quantities, but you can use it for aquarium decorations if you have some.
9. Use the Right Adhesives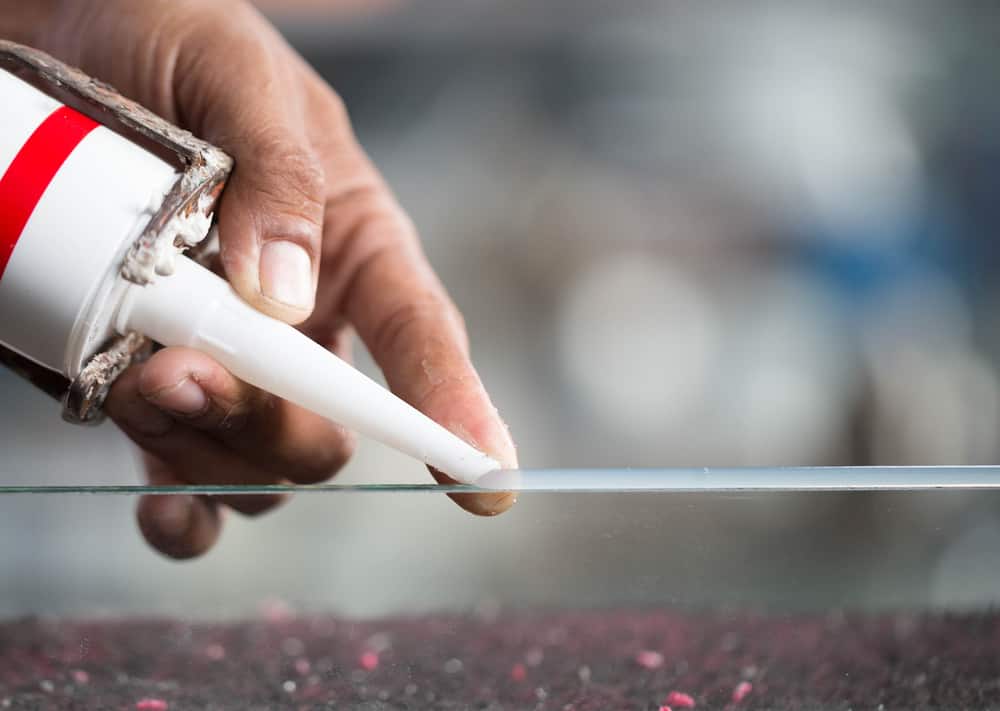 Not all kinds of glues and sealants are safe for your fish since they can be water-soluble and leak toxic chemicals into the water.
Here's a list of adhesives you can use when trying to make or fix a decorative object:
Cyanoacrylate Glue: also known as Reef Glue, Krazy Glue, or Super Glue, is one of the most common glues that aquarists and reef hobbyists use. It's strong and works for most materials, including coral frags. Wait a while until the glue is cured. Otherwise, it'll turn milky white right after you put it in the water, which is also not safe.
Silicone Sealant: This sealant is used for fixing aquarium leakage or for making and fixing decorative ornaments. It's very flexible once cured, and it comes in clear and black colors.
Hot Glue Gun: This type of glue is handy and non-toxic for use in an aquarium. The only downside is that you shouldn't use it in tanks with higher temperatures.
Epoxy: There are epoxy adhesives made specifically for aquariums. They come in two parts which you should mix together, and they take longer to cure. You can make rock formations and driftwood out of epoxy.
10. Differentiate Between Saltwater and Freshwater Decorations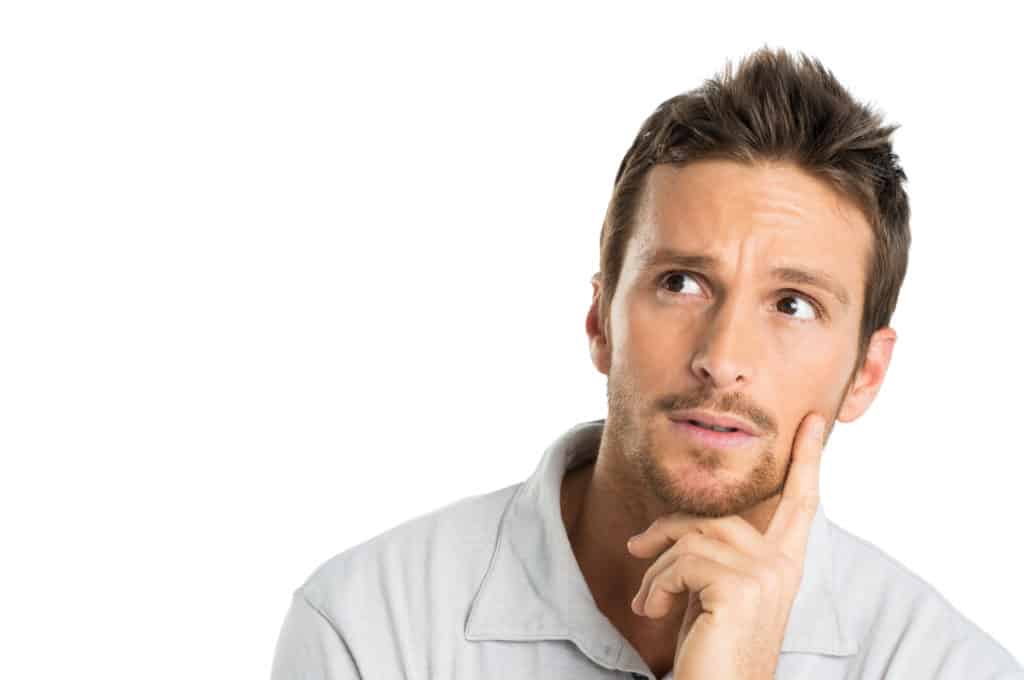 The most significant difference between these two habitats is that saltwater aquariums can have real corals and shells, but freshwater aquariums can't.
Shells and coral skeletons will cause chemical changes in the water by adding calcium and increasing the pH and hardness levels.
This is something you don't want in a freshwater aquarium, where you have to keep the pH below 8.
Fluctuations in these water parameters can cause stress for your fish and even lead to their death.
Instead, purchase fake corals and shells, which are easier to keep and won't need much maintenance.