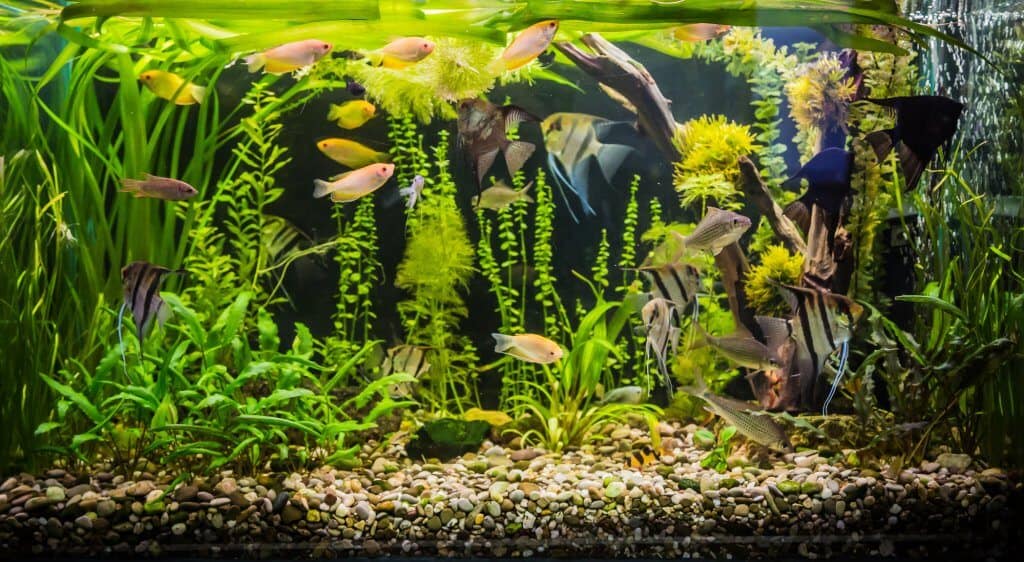 Having a freshwater aquarium could be a delightful hobby, but it's also one that comes with many responsibilities. You have to consider not only the quality of accessories, the overall cleanliness, and the general surroundings but also how to stock the aquarium itself. If you don't have the right quantity of fish and a decent combination of them, you could be looking at quite a loss.
The fact is that freshwater fish are not too hardy, so one shouldn't assume that they can easily survive in the limited area of an aquarium. They may have issues coexisting with other species or adapting to the new kind of water available to them.
In order to make sure that the aquarium is healthy and harmonious as well as safe for the fish, you should make sure the stocking levels are just right. The kinds of fish also need to be just right in order for your hobby to work out.
Hence, you shouldn't rush to the pet store and get a few different species of fish that you like the look of. These fish may not be able to live with each other due to their temperament. Additionally, they may need different kinds of water quality and may literally not survive when living together.
For the healthiest and most thriving freshwater tank, you should first make sure you have the correct fish. You don't want the headache of having incompatible breeds of fishes nor the tragedy of losing them. This would be a monetary loss as well as an emotional one. In order to achieve a bountiful tank, read on below to learn some basic lessons about how a freshwater aquarium needs to be stocked:
The Number of Fish
Deciding just how many fish should go in your tank is probably the most important choice. For the best decision, you should take into account the estimated capacity of your tank. You should be able to roughly gauge this amount by calculating the number of gallons it can hold. Then, allocate one fish for each gallon. This is a universal rule of thumb that could really come in handy. By this reasoning, a 60-gallon tank should not have more than 60 fish.
Of course, the ideal situation would be to have considerably less than 60 fish in such a tank, especially if some of them are large-bodied entities. Goldfish are one such species. These tend to displace a lot more water than smaller fish, particularly as they age. Zebrafish, on the other hand, is a smaller species that could have more room in a large tank. Hence, once again, you need to keep the breed in mind too.
Additionally, there are several ornaments that you should have in your tank to keep your fish happy and relaxed. These would naturally mean that there is less than a full 60 gallons in a 60-gallon tank. Hence, you need to take into account your plants, equipment, gravel, and other accessories before calculating the ideal amount of fish you can get.
Furthermore, this rule of thumb only applies based on the size of an adult fish, not the young ones you would most likely get in the beginning. If you want to buy fish that are somewhat more mature, you should measure them first. Take the measurement from the base of the tail all the way to the head.
If you want to get some baby or half-grown fish, your pet store should know just how big the fish may expect to get. Many stores would have this information on their tank labels in the first place. Be sure to read these labels carefully since they could give you information about the fish's temperament and required habitats as well as their full adult size.
Keep in mind that rule of one fish for one gallon is a sort of estimate. You may have an aquarium that's oddly-shaped. In such a case, calculate its capacity according to its surface area. Even tanks of the same size may not be able to hold the same amount of water or accommodate your fish completely.
Additionally, you should select your fish based on your filtration system, the kind of species you want, and how regularly your tank is cleaned.
No Quick Stocking
You may be tempted to simply buy your favorite species and dump them all in together. However, it should be obvious that this is far from the best way to go about stocking your tank. It may take longer, but you should really start with a few fish and see how it goes. If the tank is supporting the fish just fine, add a few more and wait for a week or so again.
Your tank may have completed a nitrogen cycle and have the bacteria needed to support freshwater fish. This doesn't automatically mean that you put several different species together. Test them out by themselves first, then introduce another species, and so on. At the most, add around two fish in a single week.
This is also best for the tank since the additional fish would produce additional waste. You need to make sure your tank's equipment can handle that and still keep your tank clean.
Tips on Starter Fish
Want to make sure your initial fish stay safe and live long? Get in some really hardy species as your first fish. This is also a good idea if you're a novice at fish-keeping and want to get a feel for this practice. Some examples of these species are White Clouds or Zebra Danios. Once these survive, which wouldn't be too hard, you can level up with Tiger Barbs or Cherry.
When you add a fish, add its name to a list. Do the same for the size of the fish and for the fish you want to get in the near future. This would let you know what kind of fish to plan for. Again, keep in mind that the fewer the fish, the higher their chances of surviving.
Danger of Overcrowding
A crowded tank is much more dangerous than an empty one. It's not just that the fish would get disturbed by being placed so close together; they could also become hostile toward each other They would understandably get frustrated and see other fish as their enemies.
When overcrowded, fish also tend to eat more than is good for them. This is because they perceive a threat at any and all times, so they eat in order to become stronger and larger than their apparent enemies. This overeating could lead to digestion problems as well as a wastage increase that not even a high-end filter could process.
The resulting pollution from the untreated waste would get inside the gills of the fish. This would make it more difficult for them to breathe. Unfortunately, there's currently no treatment to cure such cases. Only preventative methods are known. A little planning done now would save a lot of trouble and expense in the future.
Stocking Evenly
You need to get fish that swim at different tank levels. This way, there would be much less competition for space. There's also the bonus of having an attractive tank filled with fish from top to bottom.
Fish on the top level of your aquarium usually have mouths that turn up. They're, hence, suited for eating food on the water's surface. Some examples are Jumpers, Betta, and Hatchetfish.
Fish in the middle level would be the ones that catch the most attention. It's a good idea to stock schooling and colorful fish here to give a gorgeous effect. These could include Angels, Goldfish, and Rainbows.
The bottom-dwelling fish are usually equipped with mouths that turn down. Thus, they can easily eat the food that has fallen right to the lowest part of the aquarium and keep everything clean.
Fish Compatibility
Fish have different temperaments and personalities, much like we humans do. Some species may get along with each other, while others may not. If you see fish labeled as aggressive or semi-aggressive, it should be a good idea to place them in a tank with plenty of space. Also, make sure that two males aren't in the same tank.
Community fish would be the most peaceful type as they get along with each other as well as other species. Schooling fish are the best example of these varieties.
Installing Plants
You may have certain plants and other accessories in your tank. These may affect different fish species in different ways. Silver Dollars, for example, would nibble at almost any aquarium plant in next to no time. Goldfish and Oscars are even worse, even uprooting the plants completely.
You can find a way around this issue by either getting artificial plants or avoiding such species. When selecting your fish, you should keep their natural environment in mind. See if you can get plants similar to that environment. They would remain safe, look good, and even help the fish settle more easily into their new home.
Ornaments and Accessories
Having little ornaments in a freshwater aquarium is actually quite useful and necessary in many ways. These are not just for decoration but also for giving the fish a place to hide if they feel unsafe. Make these requirements your priority and then consider the aesthetic effect of your ornaments.
There's a wide range of such ornaments available today, so you can usually find something to suit both you and the fish. You can have a lot of choice in this area. To this end, you can go for natural decorations or jazz it up a little. Just make sure that the fish would actually like it.
Conclusion
You can ensure the success of your freshwater aquarium by planning it out in a proper manner. This is an activity that would take quite a lot of calculating, logical reasoning, and even a bit of compromise. You may not be able to get all the fish you want due to several constraints, but you should get a nice mixture so that your tank wouldn't look boring.
You may also have to take out quite some time to conduct all this research and make the recommended lists. The end result, though, would absolutely be worth everything you invested in it. At the very least, following the guidelines above wouldn't end in you losing your fish. This would ensure that you can easily enjoy your fish in their freshwater aquarium. No more hassle, worrying, or unpleasant overnight surprises! Your fish would remain healthy, happy, and thrive in the beautiful home you've set up for them.
Have more questions? Be sure to visit our community forums.