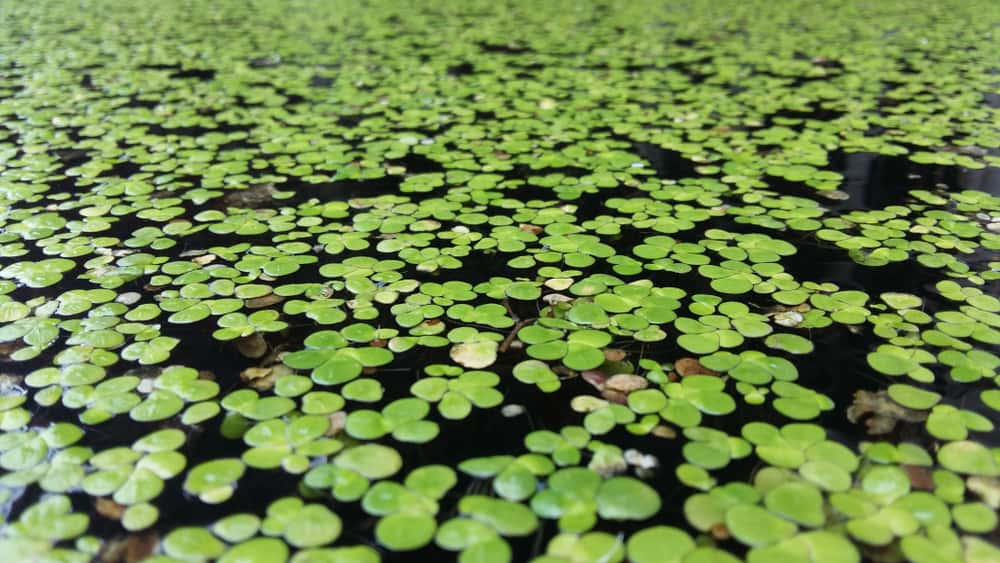 Duckweed is a tough aquarium plant which comes in 30 different species.
It's abundant in many parts of the world, including Asia, North America, Australia, and Africa.
It forms a lush green blanket over the water's surface and creates a beautiful appearance for the fish tank with its tiny free-floating leaves.
It's a popular aquatic plant among aquarists and has a hardy and tolerant nature.
It's ideal for beginners and those who don't have green fingers.
Read on to learn about the benefits of duckweed for your aquarium and your fish.
5 Benefits of Duckweed in the Aquarium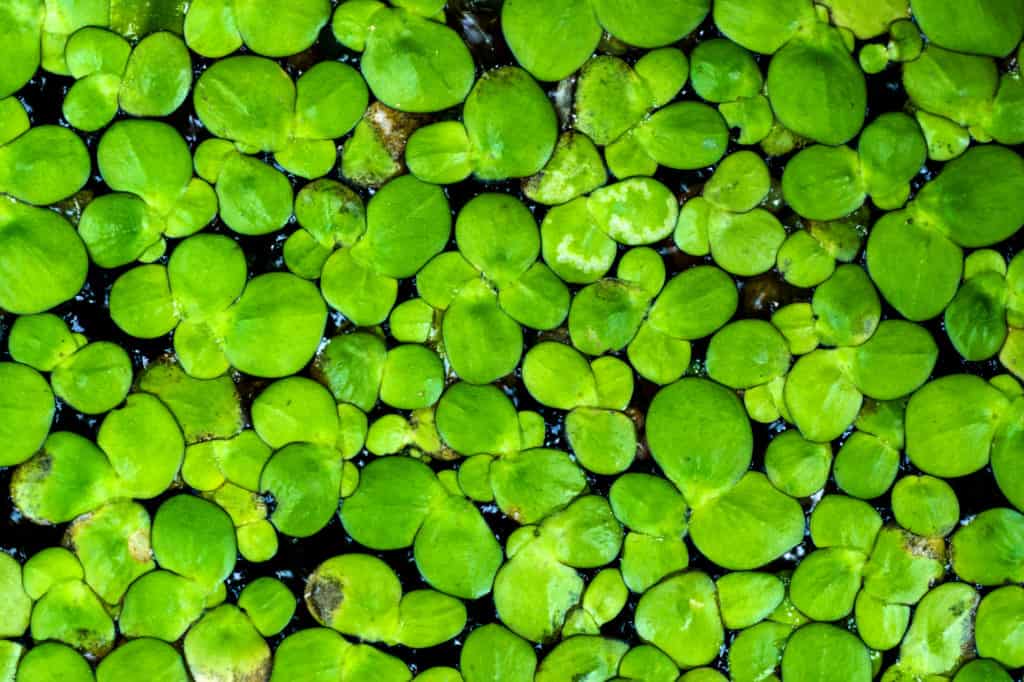 1. Duckweed Filters Tank Water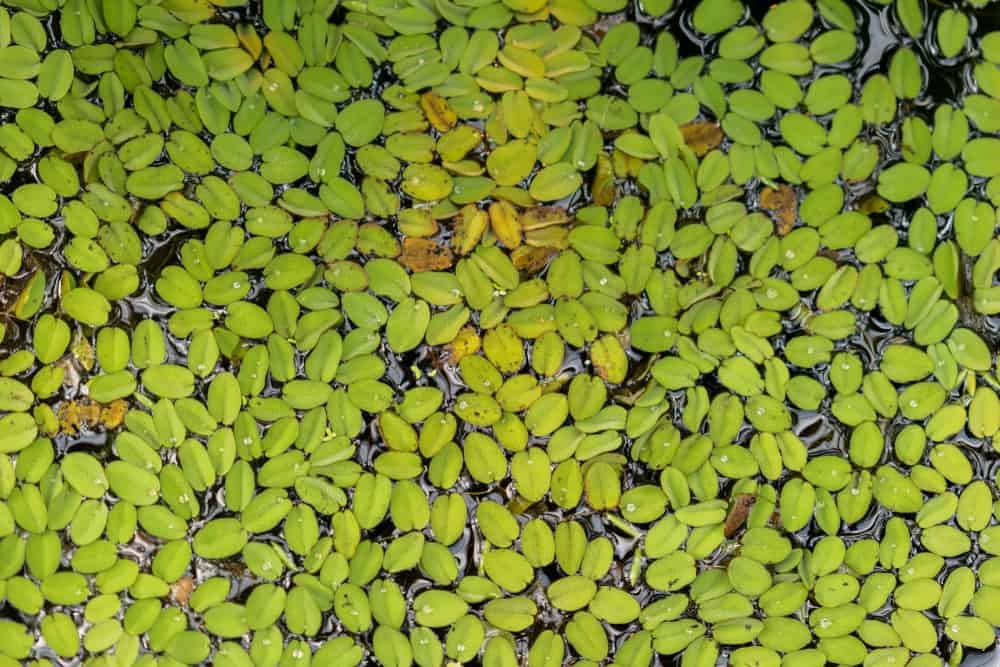 Fish and other animals in the tank, as well as dead leaves and plants, can produce high levels of nitrates and phosphates, which are harmful to their overall health.
If you have duckweed in your tank, you can be sure the water will have low toxin levels.
As an aquatic plant that feeds on nitrates and phosphates, duckweed can effectively consume these dangerous chemicals.
Ammonia and carbon dioxide are other toxins that duckweeds absorb.
An interesting thing about duckweed is that you can use it as an indicator of water quality in the tank.
Since duckweed grows really fast in high-nitrate conditions, it gives you a general sense of the water quality.
Duckweed has short, hair-like roots that grow longer if they don't receive enough nutrients.
This growth is a response to get more nutrients from deeper water levels.
If you see the duckweed roots are growing, it shows that nitrate or phosphate levels are low, which is a good thing.
2. Duckweed is a Great Food Source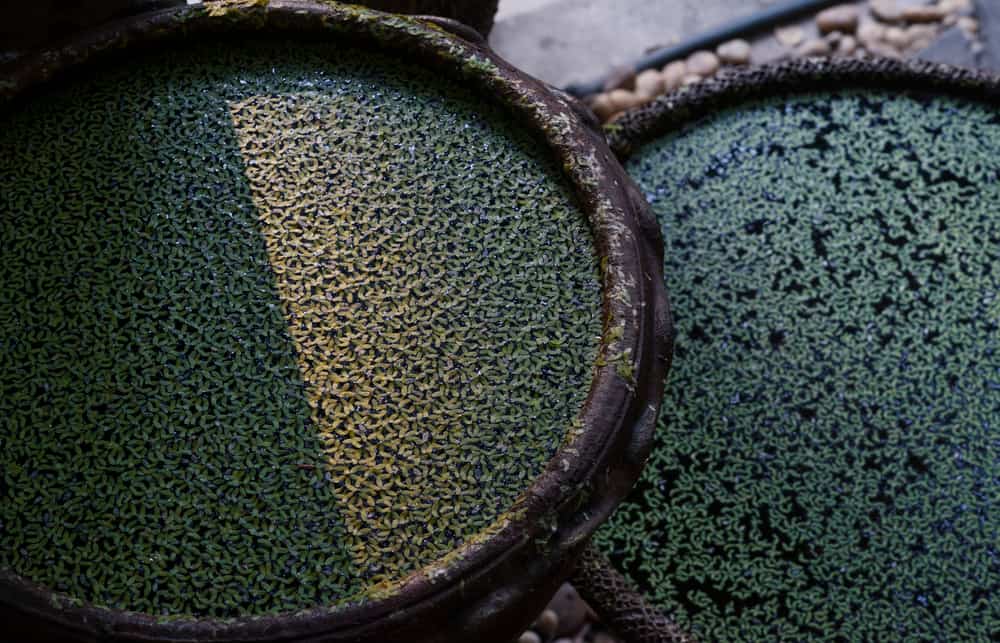 Duckweed's nutrition profile makes it an ideal food source for fish and aquatic life.
This highly digestible plant contains nearly 40% protein, 25% fiber, and 5% fat.
Its protein content is similar to animal meat, making it a great source of protein for your fish.
It also contains potassium, sodium, phosphorus, calcium, and zinc.
Fish can rely on duckweed as a supplementary source of food and something to nibble on.
Irregular feeding can lead to diseases, and keeping duckweed can prevent that.
Most small fish generally love devouring duckweed. Mosquito fish, Tilapia, Grass Carp, Goldfish, Cichlids, and Koi fish especially like duckweed and benefit from its high protein content.
It also works wonders as a laxative agent.
You can use it to clean the intestines of goldfish and keep them moving.
It's an inexpensive source of food since it multiplies quickly and doesn't need much maintenance.
3. Duckweed Controls the Spread of Algae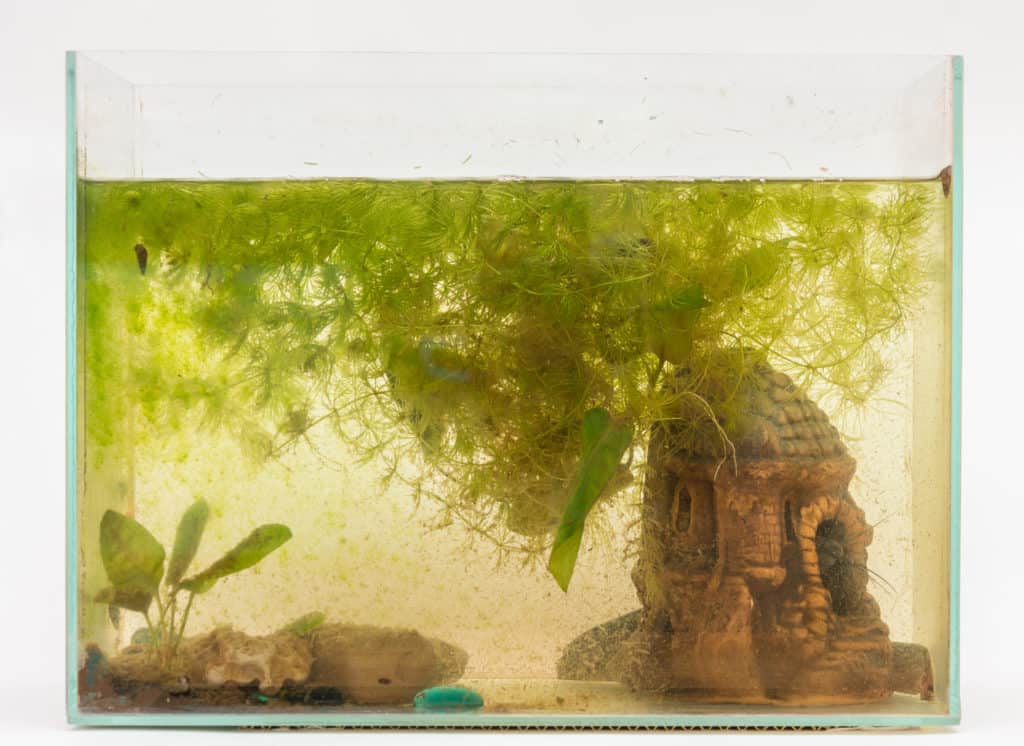 Algae growth is a sticky problem for most aquarists.
It's an eyesore in the tank reducing the aesthetic quality of the aquarium.
Duckweed is a perfect aquarium plant to suppress the growth of algae.
It blocks the light by creating a green, lush mat over the water surface.
Plus, it eats up all the nutrients necessary for algae to grow.
Not only does it block algae growth, but it also prevents any rooted plants from growing.
Therefore, you can be sure you'll never have green water in your tank in the presence of duckweed.
If you have duckweed, always look out for dead algae in your fish tank.
The dead pieces can affect the water quality of your aquarium by producing bacteria.
If you want to keep other plants in your tank, make sure to prune the duckweed regularly so that light can reach the bottom of the tank.
Also, use plants that don't require much light to grow or reach the surface.
Otherwise, you'll have duckweed blocking their growth.
4. Duckweed Provides Cover and Protection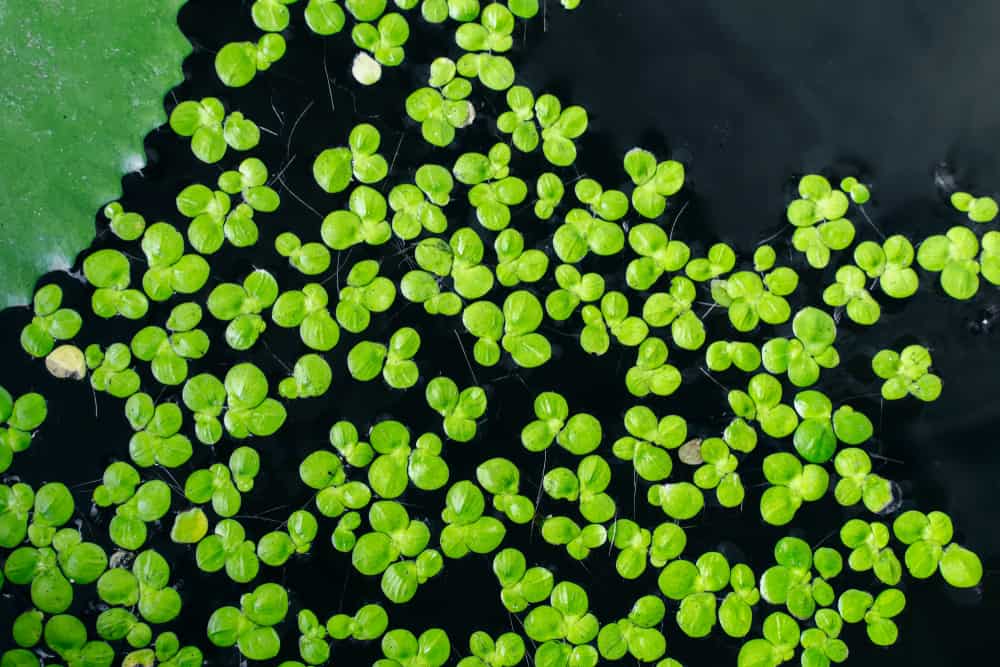 Fish and water plants need cover from light during the day.
Regulated light can affect their colors and capabilities.
Like other floating plants, duckweed can also act as a shade for different kinds of aquarium fish.
Fish like the betta fish, which love thick shade, especially benefit from having duckweed in the tank.
Duckweed provides a comfortable resting and hiding place for fish and reduces stress in the tank.
It can filter extra light and provide a perfect shade under which the fish can relax and even lay eggs.
Male fish that are too small to fight for mates can hide under duckweed, too.
Plus, it keeps predators from detecting their targets, and fries can hide under them away from the scary adults.
All these can help reduce the stress inside the fish tank and create a comfortable environment.
The water's green color and plant-rich background give your fish the feeling they're living in nature.
Another benefit of duckweed as a cover is that it can reduce water surface evaporation, especially in hot and dry seasons and places.
It can reduce the open water area by covering the surface, protecting against surface light and decreasing temperature.
It can also act like a lid on the tank to prevent certain fish from jumping out.
These fish think the cover over the water surface is a thick lid and become less likely to escape.
However, it doesn't work for all kinds of fish, including cichlids and rope fish.
If your fish tend to jump out often, you should have a solid lid over the tank.
The cover that duckweed creates isn't only for the living things in the tank.
You can use it as an aesthetic roof for your tank.
Any pipes or holes that can take away the beauty of your tank can hide under a thick layer of duckweed.
5. Duckweed Aerates the Tank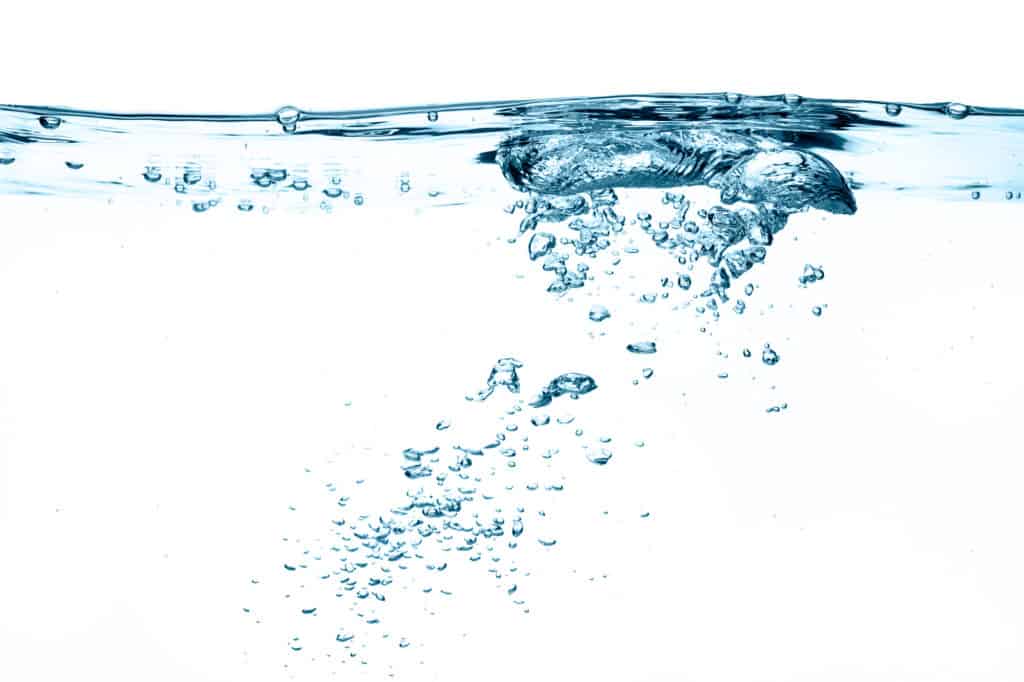 Duckweed is a good source of oxygen for your fish tank because it circulates air and produces oxygen.
This way, your tank will be safe against toxins, and your fish can breathe better.
In addition to producing oxygen, it helps improve water quality by consuming CO2 from the water column.
Duckweed doesn't need aeration since it loves still waters.
You can make sure your tank has good oxygen levels even if it's not moving.
However, dead duckweed uses up oxygen to decompose, so always look out for dead plants and remove them from the water to ensure the oxygen levels don't drop.
How to Take Care of Duckweed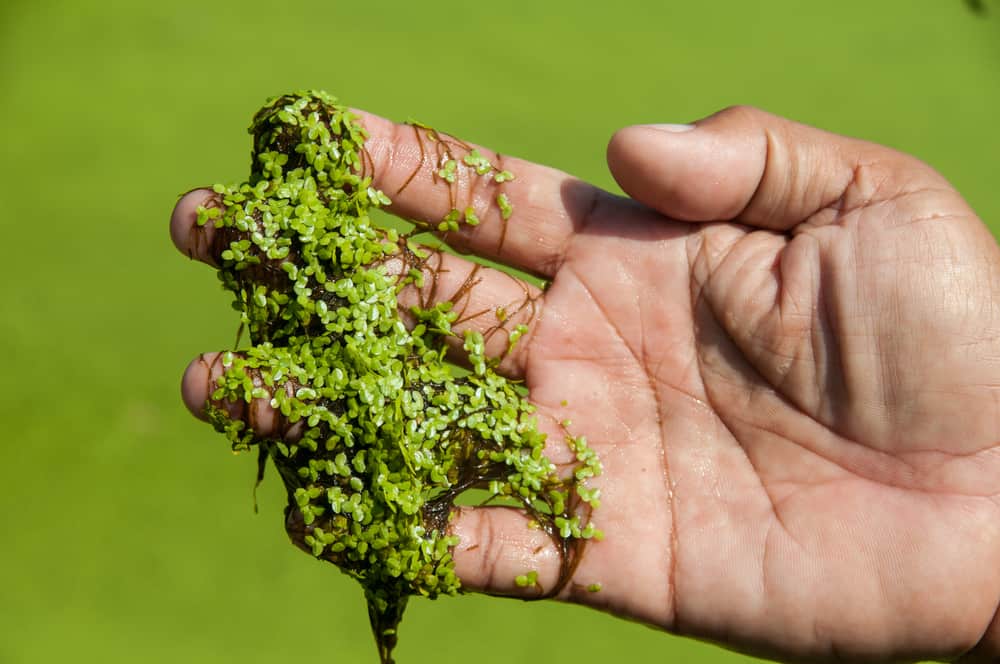 Duckweed is a low-maintenance aquatic plant that doesn't take much to multiply.
Although it can thrive in a variety of conditions, it grows better in an optimal environment.
1. Water Depth
The best depth for duckweed is between one and 20 inches.
Although it can grow in other depths, it doesn't expand as vigorously.
That's why it may not be a good choice for deep aquariums.
If you have a wide tank or a small container, duckweed is a perfect plant.
2. Light
Duckweed grows naturally in ponds with direct sunlight and little shade.
It also needs light to photosynthesize and produce oxygen.
Therefore, sunlight or fluorescent lamps will give you the ideal lighting conditions.
If you use LED lighting, place it 12 to 20 inches from the surface.
Don't use light bulbs since they can produce heat and raise the temperature in the aquarium.
Plus, don't forget the influence of direct light on water evaporation.
If the duckweed only covers a part of the water's surface, make sure to refill the tank regularly.
3. Substrate
Duckweed is a floating plant, so it doesn't need a substrate and feeds from the water column.
Having a substrate in the tank can, however, help create a healthy and balanced ecosystem by allowing other plants to thrive, which, in turn, provides more nutrients for duckweed.
4. Water Conditions
Duckweed doesn't require any specific conditions to thrive as it's more difficult to control than to grow.
That's why water parameters don't affect its growth much.
In terms of temperature, it grows in both cold and warm water.
It doesn't matter if it's in a pond or an aquarium; it's happy anywhere, but the best range for duckweed is between 20 to 30˚C.
Any temperature below or above this range can lead to a drop in growth.
It also doesn't care much about the pH range.
It can adapt itself to any range that the fish prefer.
However, the ideal range is between 6.5 and 7.5.
Although duckweed is a hardy plant, it does react to poor water conditions.
If you notice that it's not growing well or turning white, check the water quality in terms of nutrients (nitrates, potassium, and phosphorus), lighting, and CO2 levels.
Downsides of Duckweed in Fish Tanks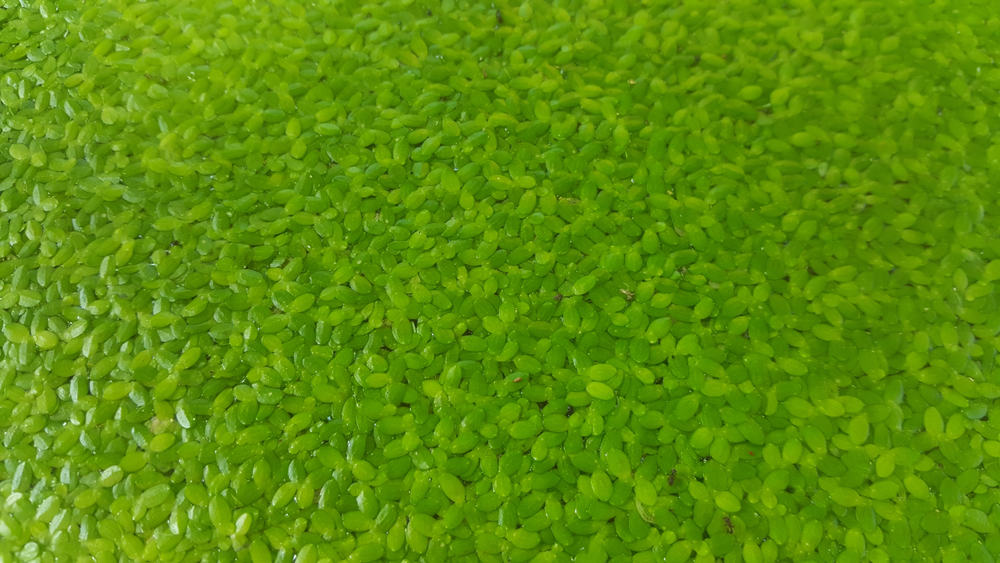 Although duckweed is extremely easy to grow, it isn't without its limitations.
The most important problem with this plant is reflected in its name: it grows like a weed.
Under ideal conditions, it can double in just two or three days.
While it's convenient to have a low-maintenance plant in your aquarium, it can quickly overwhelm the tank.
Duckweed overgrowth can deprive fish and other plants of light and nutrients.
Excessive growth isn't a serious problem in a fish tank since you can easily control it.
Perhaps the only maintenance this plant needs is regular pruning.
Scoop out any extra growth every couple of days and always keep half of the surface area clear of duckweed.
You could give the harvested duckweed to your pets if it can be a good diet for them.
You could also get rid of excess duckweed using chemicals like fluoridone or diquat.
However, this is neither necessary nor recommended, especially if you're a beginner, since you might end up damaging the fish or other plants in the aquarium.
Plus, look out for duckweed entangled in the filter since it can clog up the system.
It's a good idea to place pre-filters so that the duckweed doesn't get into the filter.
You could also make an enclosed area using a tube so that the duckweed doesn't grow out of this space.
What is the Best Way to Grow Duckweed?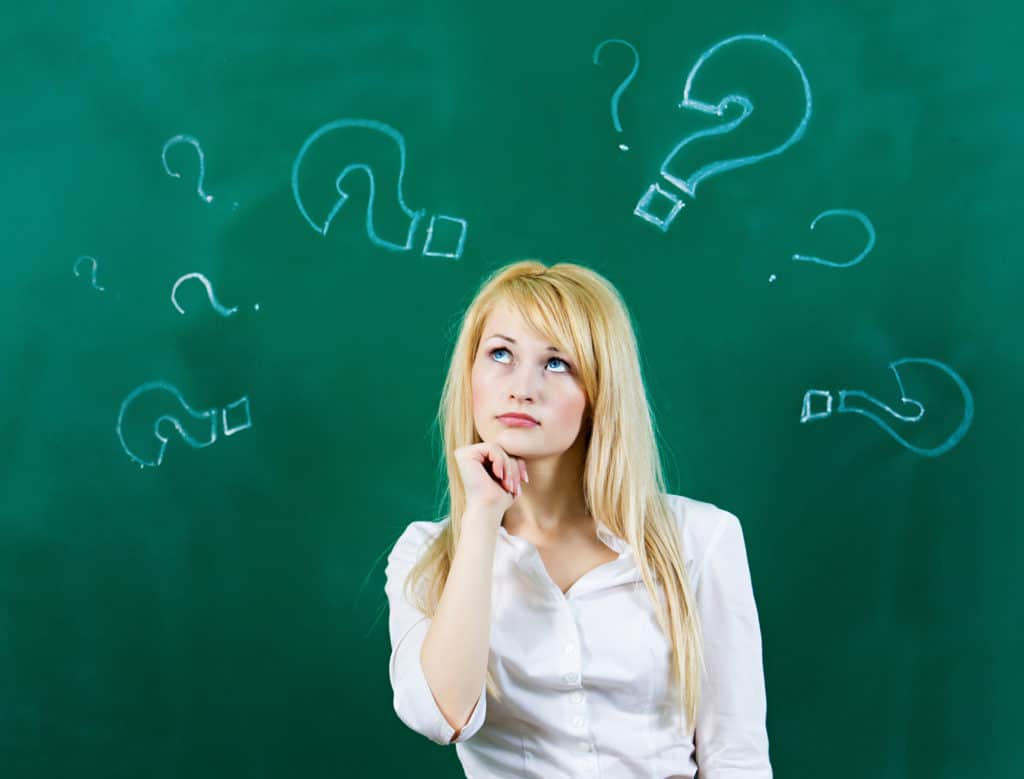 One of the main advantages of duckweed is that you can easily buy it. You can get it from your local pet store or even from a pond.
Here's a step-by-step process to prepare your duckweed:
To kill any pests or bacteria, prepare a potassium permanganate solution using one tablespoon in 45 liters of water. Leave the duckweed in the solution for 30 seconds.
Fill a tray with water from the pond or regular tap water and put the duckweed in it. The best depth for the tray is 30–36 cm.
Put the tray under direct sunlight or light bulbs. Make sure it has access to ample light 10 hours a day.
The plant starts to multiply within 48 hours. Look out for damaged or dead plants and remove them from the tray. Add more water if necessary.
When you see the duckweed has reached the desired amount, move it to the fish tank using a net.