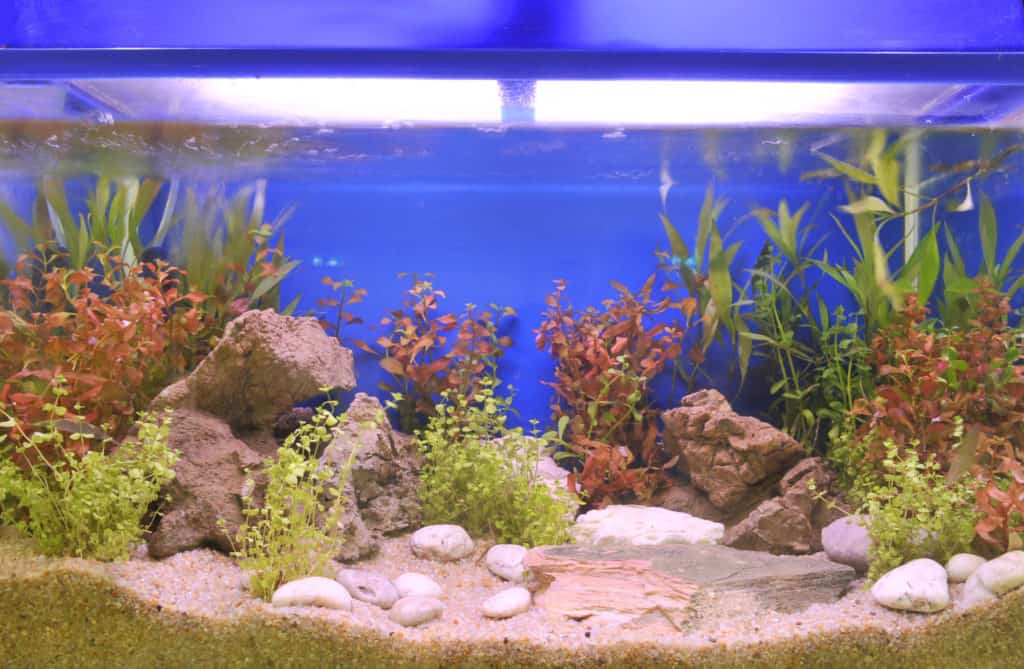 You can put different types of substrates in your aquarium.
If you've decided that gravel is your best choice, you need to figure out how much of it you'll need to let aquatic life thrive in your aquarium.
In this article, you'll find an easy guide on how to determine the amount of gravel you'll need for your tank, based on its size and the type of fish, plants, and decoration you're trying to put together.
You'll also learn how to set up your gravel-covered aquarium, step by step, and find out when to avoid using gravel.
How Much Gravel for an Aquarium?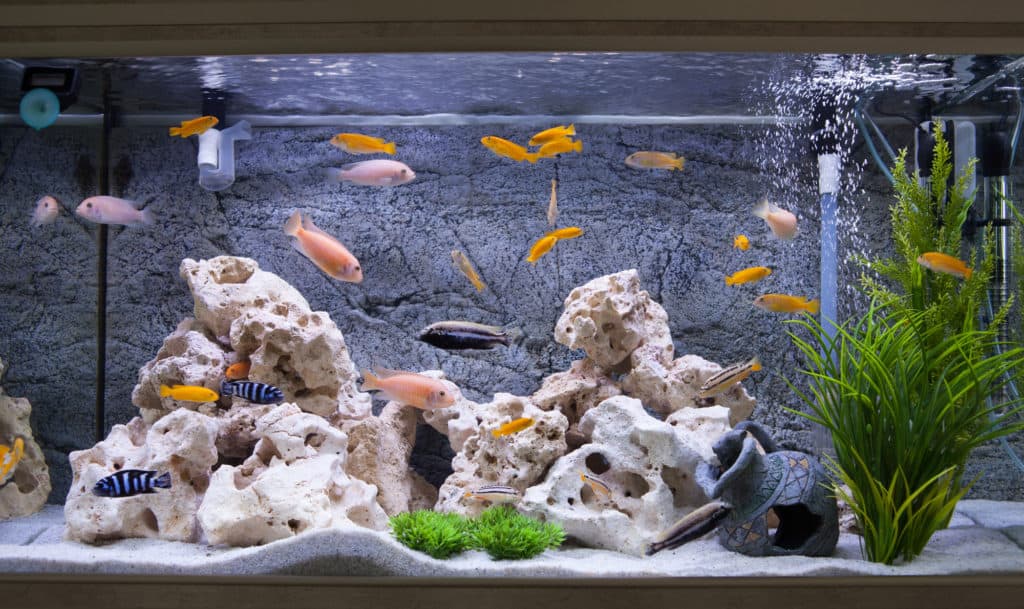 If you're planning on keeping a fish-only tank, one to two inches of gravel will give your aquarium a decent baseline.
The amount of gravel you'll need depends on the dimensions of your tank.
As a rule of thumb, you'll need one pound of gravel per gallon of water.
For example, if you put 10 pounds of gravel in a 10-gallon tank, you'll get a one- or two-inch-deep substrate.
If you want to know the exact amount, measure the dimensions of your aquarium.
Then, multiply the tank's length by its width, and divide the answer by 10.
For example, 20 inches (L) * 10 inches (W) = 200. Dividing 200 by 10 gives you 20 pounds of gravel.
There you have it!
This way, you'll get a more precise answer.
You can convert the weight of gravel to kilograms by dividing the final answer by 2.2.
Putting a thinner or thicker layer of substrate in your aquarium will cause problems.
Benefits of Gravel Substrate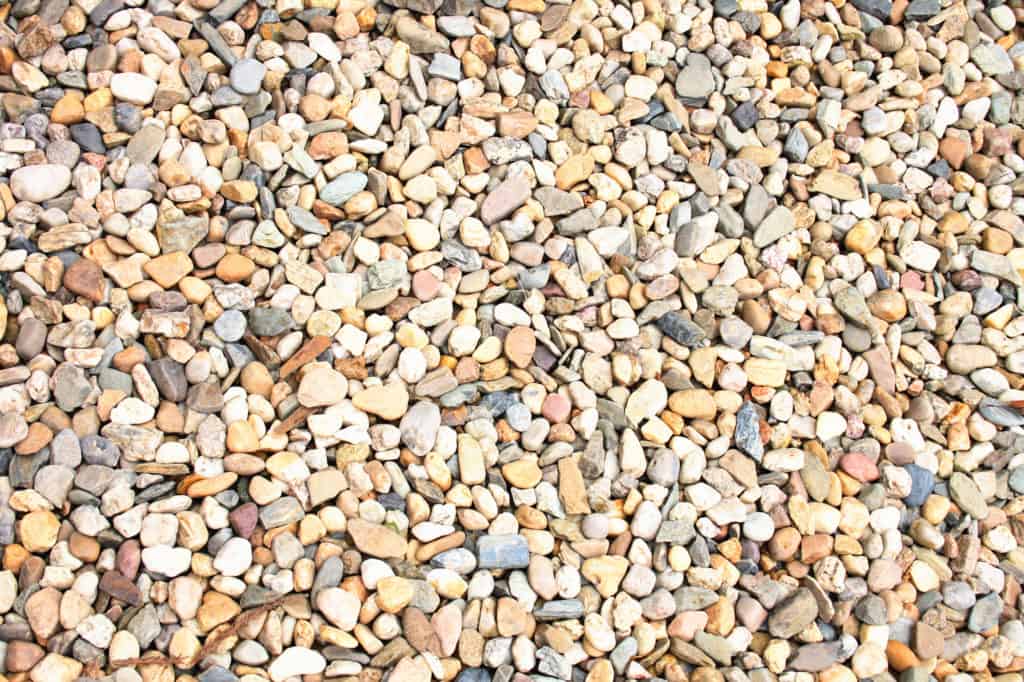 Some amateur fish keepers think that the depth of the substrate is only important for aesthetic reasons.
Although beauty is essential, the type and amount of substrate will affect your fish and aquarium's health, and here's why:
1. Filtration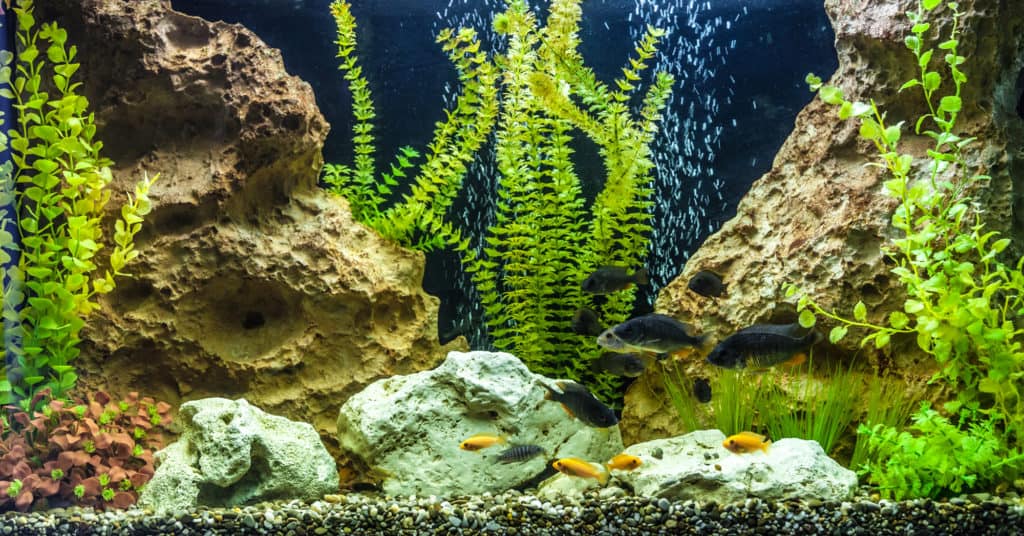 Leftover food, waste, and debris produce chemicals like ammonia and nitrites.
Without a deep enough substrate, you'll have to perform water changes very frequently to prevent them from accumulating in the tank and killing your fish.
Gravel provides biological filtration for your tank by housing beneficial bacteria.
These bacteria break down harmful chemicals and make them less dangerous for your fish.
If you have an overcrowded aquarium, even frequent water changes won't do the trick, and you'll need gravel for the bacteria to build colonies and do the job for you.
2. Fish Habitat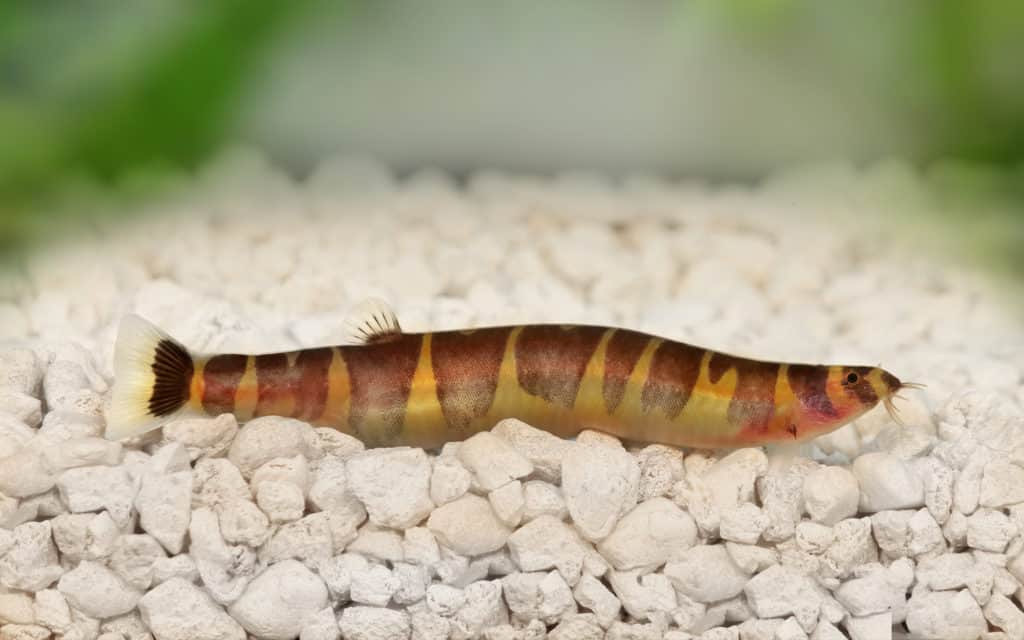 The substrate can make your fish feel more at home while giving them places to hide and something to dig through if they want.
Gravel can hide the fish eggs from fish that may eat the offspring.
A base layer like gravel is also necessary if you want to prevent the fish from seeing their reflection in the tank's bottom because it can cause lots of stress and even lead to their deaths.
3. Aesthetic Appeal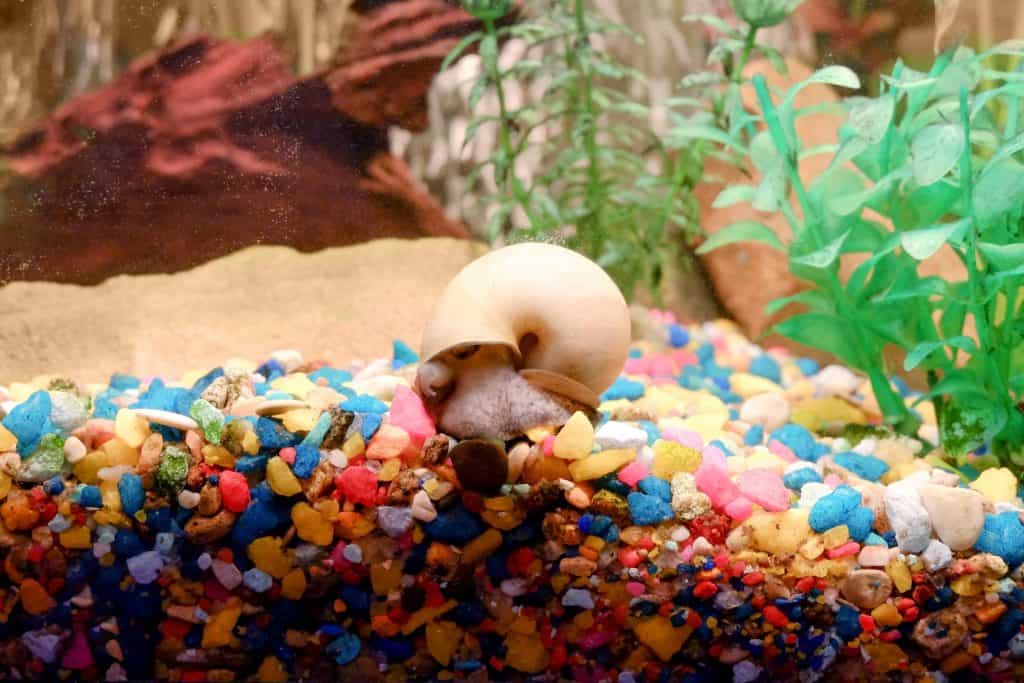 Needless to say, adding a substrate, especially multi-colored gravel, can give your aquarium a beautiful look.
You can bring out the features of your light-colored fish with dark gravel and vice versa.
What to Consider Before Deciding on the Amount of Gravel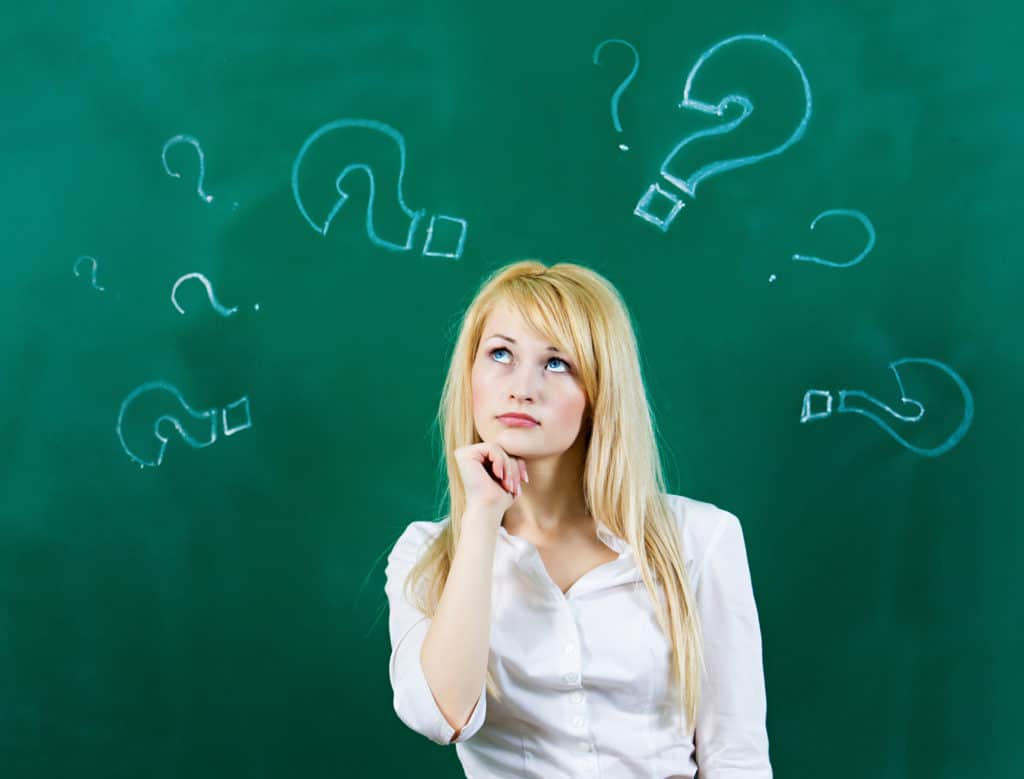 1. Type of Fish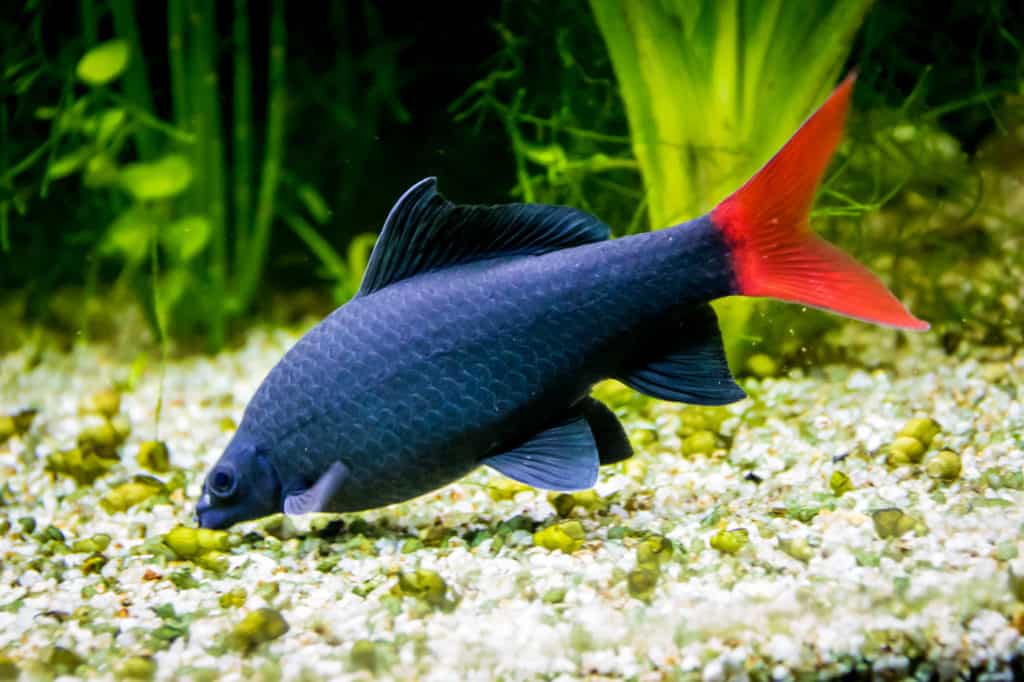 The type of fish you're planning to keep in your aquarium directly affects the type and amount of gravel you should be using.
First, you should decide if you want to keep freshwater fish or marine ones.
With freshwater varieties, you'll need inert sand and gravel designed explicitly for freshwater aquariums.
A marine substrate will increase your tank's calcium and pH levels because it mostly has bits of coral and shells in it.
Alkaline water is appropriate for marine fish but uncomfortable and even deadly for most freshwater species.
However, there are some exceptions, like the African Cichlids, which need high pH levels.
The second thing you should consider is the roughness of the gravel.
Some fish, like catfish and loaches, are bottom dwellers and spend most of their time at the bottom of the tank scavenging for food and burrowing into the substrate.
These fish will need finer gravel, or else they can injure their bellies, fins, or mouths with the sharp edges of gravel.
Other fish, like some varieties of Cichlids, occasionally like to dig into the substrate as well.
They'll need deep and fine gravel.
On the other hand, there are fish that'll thrive with coarse and heavy gravel.
Overall, you'll need to consider your fish's behavior and preference before deciding on the type of gravel you'll be using, as every fish has its unique needs.
2. Depth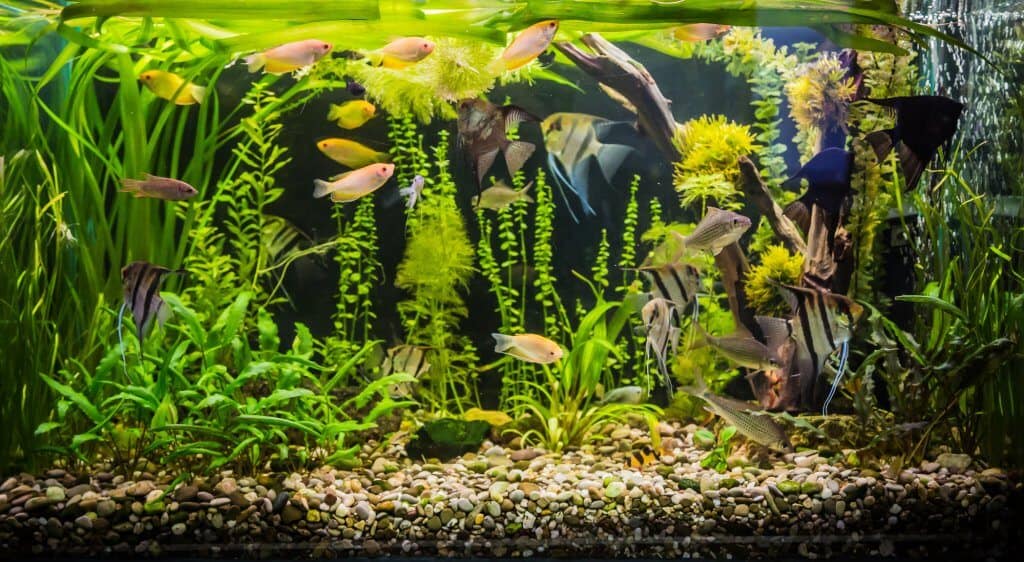 You might be thinking that too much gravel can't hurt your tank, but it actually can!
First of all, a substrate that's too thick will just take valuable space and cramp up your fish, which causes stress.
Secondly, the thicker the substrate, the sooner harmful chemicals will pile up since less water is available.
More importantly, deep gravel won't get enough oxygen.
Harmful anaerobic bacteria can start multiplying at the bottom of your tank, and toxic gas pockets can develop in the depths.
Plus, you'll regret putting too much substrate in the tank when it's time to clean that whole pile of mess!
3. Plants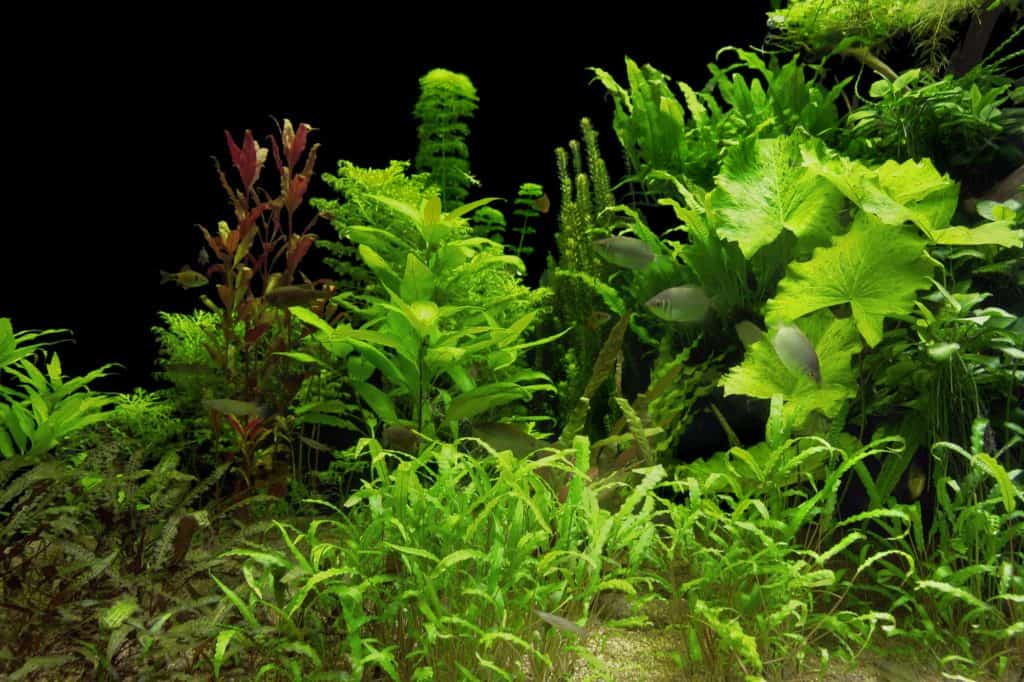 The type of plants you can add to your aquarium depends on the type of fish you have.
Some fish need heavily planted tanks to feel safe, while others need hiding places or special plants to lay eggs on.
Still others will pull out the plants from their roots while digging in the substrate.
Some aquatic plants don't have root systems, and some get all their essential nutrition from the water and light.
You can even keep plants in plates or keep floating plants.
In these conditions, you won't have to worry about the depth of the gravel.
If the plants have shallow roots, you can still get away with one or two inches of coarse gravel.
If they're large and have big root systems, you'll need a finer substrate, and you should raise the bed to about three or four inches.
The best option is to put about an inch of aquatic soil or nutrient layers like vermiculite or laterite and top it with gravel.
This way, your plants can run their roots easily and get their nutrients.
4. Size and Decorations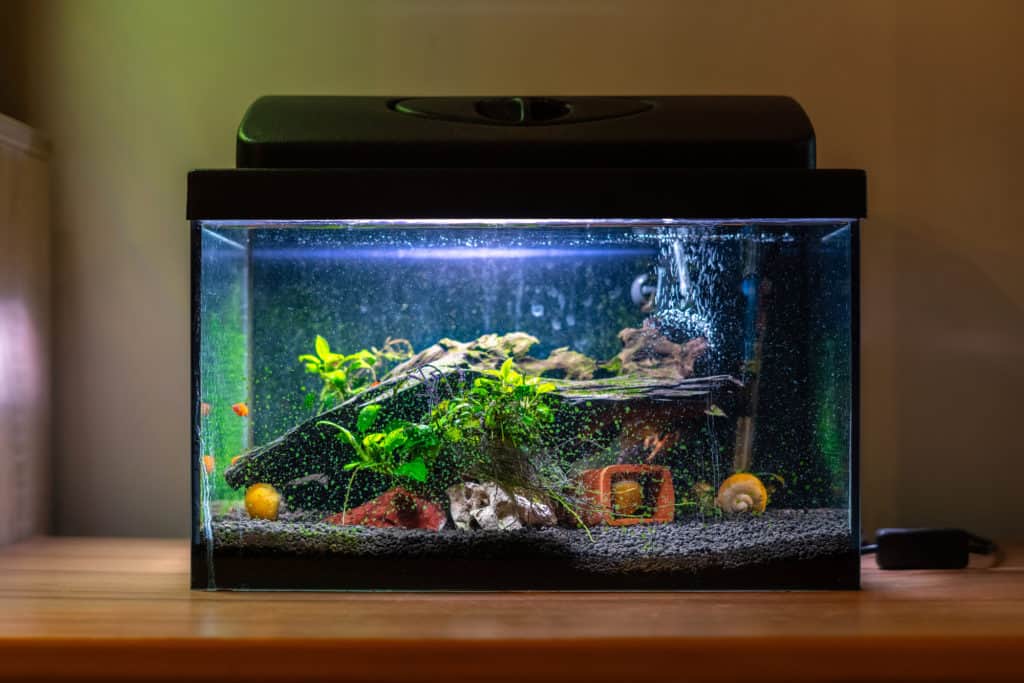 You might want to use fancy decorations, rocks, or driftwood to create an aquatic landscape in your tank.
You may also need to consider your fish's needs.
Some fish need multiple caves and rocks as hiding spots.
Larger decorations should be stabled in deeper amounts of gravel and anchored down, or else they can sink or fall over your fish.
Some aggressive fish will even try to knock the decorations down, so you'll need to adjust them in the gravel carefully.
Plus, a thin layer of gravel with big decorations on top looks a bit odd from the outside.
The size of the gravel grains also matters.
For example, some fish, like goldfish or Parrot Cichlids, can get large gravel pieces stuck in their mouths.
You need to put smaller gravel in their tanks.
Also, it's a lot easier to clean medium to coarse gravel.
Setting Up Your Aquarium with Gravel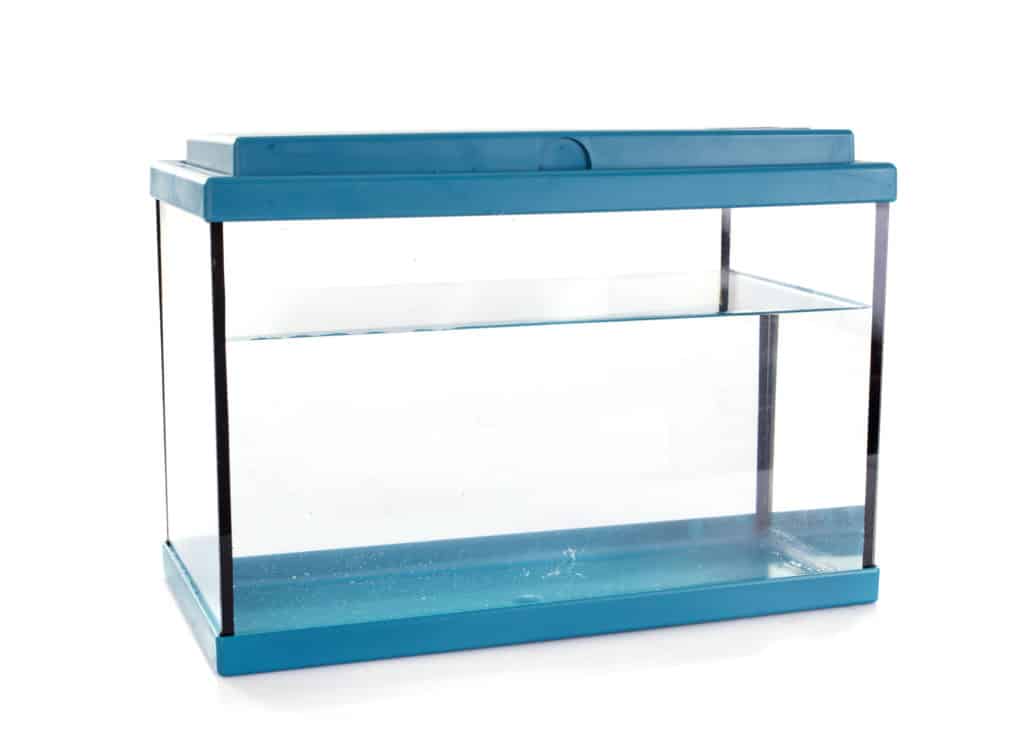 Step 1: Prepare Your Tank
First, clean any dust from the inside and outside of your tank with a damp cloth.
You can use vinegar and paper towels to clean a tank thoroughly.
Check your tank for any leaky spots.
Pour a bit of water into the tank and wait for a while.
If you find any leaks, use a sealant to leakproof the aquarium.
Prepare the stand or cabinet, and make sure it's strong enough to bear the weight of a tank full of water.
Position your tank carefully because, once you get water into it, you won't be able to move it easily.
Ensure your tank is away from direct sunlight, heaters/coolers, windows, and doors.
Check and see if your tank is level.
Step 2: Clean the Gravel and Decorations
Even if you've bought pre-cleaned or pre-rinsed gravel, make sure you give it a thorough wash.
Gravel has dust, debris, and other small particles which can be poisonous for fish.
Without being washed, your aquarium water may permanently look cloudy.
Take a bucket, put the gravel inside, and spray it using a hose until the bucket is full of dirty water.
Stir the gravel with your hand and pour out the water.
Repeat this process until the water is clear and clean.
You can also use a sieve and put it on top of the bucket.
Put small portions of gravel in the sieve and pour water on top.
Stir the gravel until the water runs clear.
This way, you won't lose any grains along the way.
Rinse and wash all the aquarium rocks and decorations with warm water only.
Don't use any soap or detergent.
Step 3: Add the Gravel and Water
Pour the gravel gently to avoid scratching the aquarium's base until it reaches the desired depth.
Then smooth the surface with your hands.
You can also create a slant using gravel, from the back of the tank to the front.
This way, you can put plants with bigger root systems in the back and have a beautiful perspective.
Place a plate or a bowl on the gravel and pour room temperature water on it to keep the gravel in place.
Fill your tank, and then use a water conditioner to dechlorinate the water, as chlorine can harm the fish.
Step 4: Install the Equipment
If you have any equipment like lighting systems, heaters, filters, or air pumps for your aquarium, now's the time to install them.
It's better to use two heaters for larger aquariums.
Stick the heater to the inner glass of the tank and adjust the temperature appropriately for your fish.
Install the lighting system above or on your tank, especially if you've got a heavily planted one.
Set its timer for less than eight hours a day.
For an air pump, simply connect the airline pipe or valve to your aquarium outlets, like air stones or decorations.
Step 5: Add the Plants and Decorations
Bury the plant roots deep in the substrate and make sure they're stable and have access to nutrients.
Add the clean pieces of decorations, rocks, and driftwood to create a beautiful landscape.
Step 6: Cycle the Tank
Now you need to cycle your tank.
This means growing beneficial and healthy bacteria that eliminate toxic chemicals.
Test the water parameters like the pH levels and hardness with a test kit.
Let your aquarium cycle for a couple of weeks, and then test the water again.
If the ammonia and nitrite levels are zero, your tank is ready for receiving fish.
Step 7: Add the Fish
You'll need to introduce the fish to your tank slowly.
Put them in a bag and float them in the tank, so your fish get used to the temperature.
You can add a bit of tank water to the bag every few minutes and finally put the fish in the tank using a net.
Monitor the fish and your tank closely for the few first weeks.
When to Avoid Using a Substrate?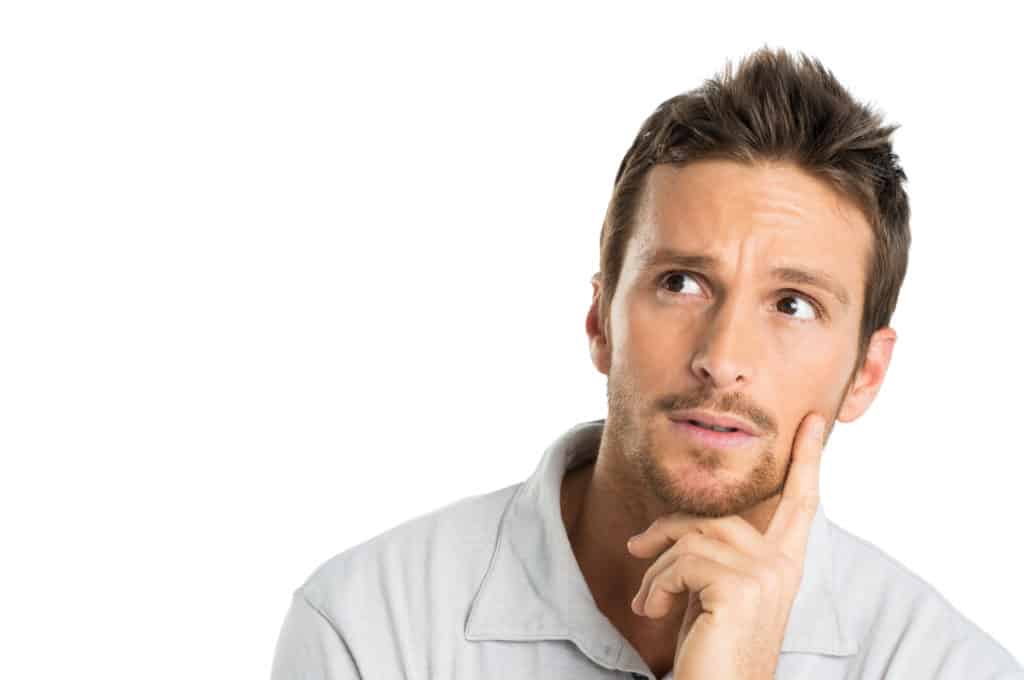 Sometimes, it's best not to use a substrate at all.
With breeding or grow-out tanks, eggs and fries can easily get infected, and their tanks should be kept completely clean.
A gravel substrate can sometimes house microorganisms which are harmful to these tiny creatures.
Plus, you'll need to do frequent water changes and vacuum the substrate.
The fries are so small that they can get sucked up when vacuuming.
Also, it's tough to see them against gravel.
What's more, you shouldn't use a substrate in a hospital or quarantine tank.
When you put a sick or infected fish in there, whether it dies or gets better and leaves in the end, it can leave bacteria or parasites behind.
They'll remain in the substrate and infect the next fish that comes into the tank.
You should also avoid or minimize colorful gravel because toxic paint can leach into the water and poison your fish.
Lastly, some fish can get stressed with light-colored gravel present, so if you have light gravel, you should monitor your fish for any signs of odd behavior and change the gravel if you notice anything.
Frequently Asked Questions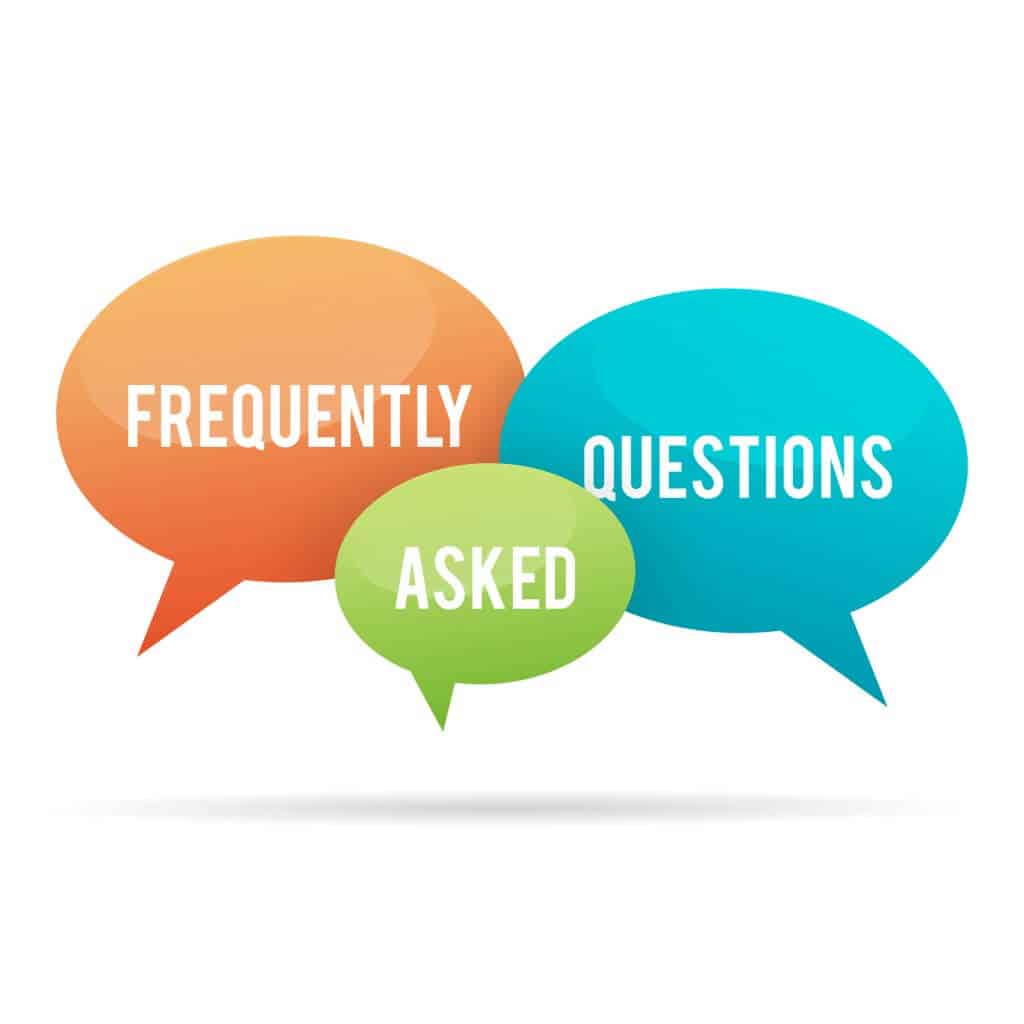 1. What Can I Use Instead of Gravel in a Fish Tank?
You can use sand, finer rocks, smooth pebbles, or aquarium soil instead of gravel in your fish tank.
Sand is well suited to marine aquariums and for bottom dwellers.
Aquarium soil is common in heavily planted tanks, but it's hard to clean.
2. How Often Should You Change Gravel in a Fish Tank?
You won't need to change the gravel in your tank at all if you purchase high-quality products.
This is one of the reasons it's popular.
However, cheaper gravel may start to give up and break down after a couple of years.
Remember to vacuum and wash the gravel often to prolong its life.
3. Can You Put Gravel in a Fish Tank After Water?
Of course, you can put gravel in a fish tank first, but it's not at all recommended.
Pouring gravel into a tank full of water can make a mess and loosen up the debris.
Also, some gravel grains may float in the water, and you won't be able to settle them down and put them in place easily.
It would be best to put the gravel, then the decorations and plants, the water, and finally the fish.