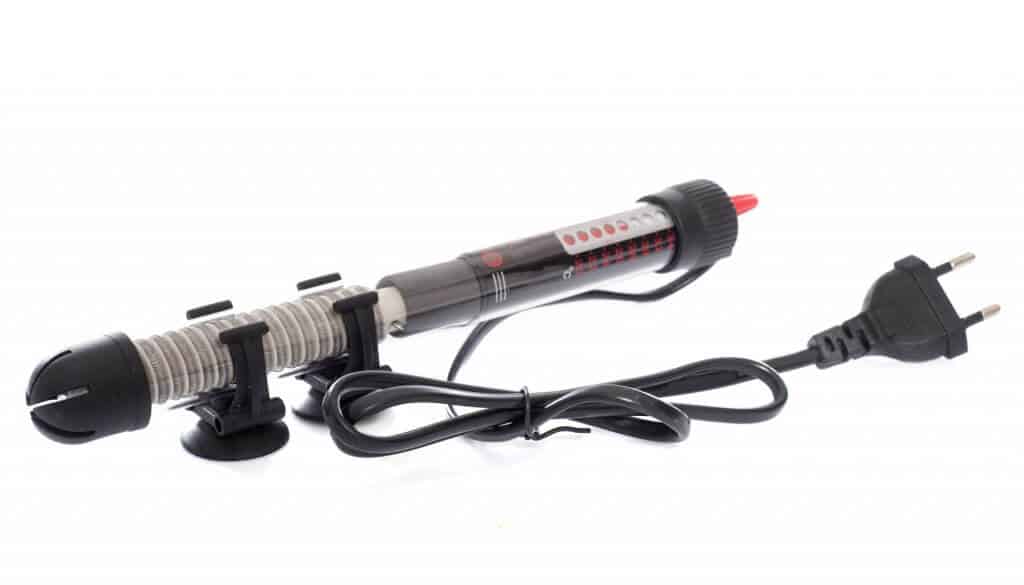 Heaters are one of the most important devices to be put inside aquariums.
Keeping the temperature appropriate for the fish is necessary for their survival since they do not produce heat from their bodies.
This buying guide for aquarium heaters contains all sorts of information to help you find the best heater for your aquarium.
There are a number of types that aquarium heaters can be divided into: substrate, filter, submersible, and immersible heaters.
Substrate Heaters: These heaters work by warming the water from the bottom of the tank and moving upward. As such, they are set up in the ground of the aquarium within the material used (gravel, sand, rocks). Substrate heaters are known for being reliable temperature regulators. As they are hidden at the bottom, they are a good choice if the aquarium has living plants.
Filter Heaters: Filter heaters are the latest in the type of heaters now available in the market. They contain blocks inside the filter which provide heating as water is being cleaned, keeping the water at a steady temperature. Filter heaters can be more expensive than others.
Submersible/Immersible: As suggested by the name, these heaters can either be fully or partially submerged inside the water. These are usually of the cheaper variety and serve well for those who want to have a backup heater. Immersible heaters can be completely immersed, which makes them the most difficult to hide. A possible issue with these heaters is that they only heat a certain part of the tank, so if the water is not circulating on its own, the heating will not be sufficient.
An important thing to consider when purchasing an aquarium heater is to see the power it is providing.
This can be checked by looking at how many watts it is offering.
Choosing an Aquarium Heater

Benefits of Aquarium Heaters
These heaters are essential for fish and live plants within the aquarium.
Even if the tank is placed in room temperature with room-temperature water, there is no confirmation that the water will stay that way.
Some fish also require a different kind of temperature, which might be higher than room temperature.
In such cases, a heater is as necessary as the water inside the tank.
Heaters also make sure that the fish do not die because the temperature keeps changing.
Apart from heating the tank, heaters also regulate the temperature and keep it consistent.
Types of Heater Materials
Heaters are made from a number of materials that add to their durability and overall performance.
However, these materials can also make the heater vulnerable to damage or leakages that can be hazardous for the fish inside the tanks.
Here are some materials that are used to make aquarium heaters:
1. Glass Tube Heaters
A lot of heaters are made using glass, especially in the form of quartz which is a sturdy material.
Some glass heaters come with clamps or cups that are used to suspend them inside the tank if they are submersible.
The glass generally is used to surround the heating component and the thermostat in order to provide a protective layer that keeps the water away from electronic materials.
Using high-quality glass ensures that there are no leaks inside the aquarium or harm caused to the fish through electric charges.
There are certain advantages to using glass tube heaters.
They are economical, come with a built-in thermostat and are available in varying power and sizes.
However, there is always a chance of breakage since it is glass, and some heaters may even have faulty thermostats.
2. Titanium Heaters
These are commonly used when heating aquariums with coral reefs.
Some of the high-quality titanium heaters are equipped with a temperature probe as well as a controller for checking and manipulating the temperature of the water.
When the required temperature is achieved, the power is switched off via the controller.
Some problems with titanium heaters are that they can be more expensive in comparison with other types, they tend to get too hot, sometimes melting the acrylic, and they are more suited to sumps than displayed aquariums.
Still, these heaters are extremely durable, are equipped with a controller and are completely submersible.
3. Electronic Heaters
Relatively recent, electronic heaters come with an electric thermostat which provides better readings.
They are gaining a lot of support and positive feedback from users and are, thus, being used by an increasing number of people.
The advantages that they bring apart from perfectly accurate temperature readings are their small size and LED temperature presentation.
The disadvantages include cost (they are significantly more expensive than glass heaters) and currently, the choices in electronic heaters are very limited.
4. Inline Heaters
These heaters are quite unique because they are placed outside the tank. They function by pushing water from the tank into a canister filter and then back into the tank.
The pipe or tube that sends water back is lined with a heating mechanism.
With inline heaters, there is no threat to the fish caused by breaks or leaks and they can switch off automatically once there is no water being brought to them.
Unfortunately, they must always remain vertical or else they won't work.
Furthermore, the size of their pipes limits the efficiency of warming water and their speed cannot be altered.
The following is a collection of the top 10 heaters available on Amazon.
Top 3 Recommendations
Preview
Make/Model
Eheim 3619090 Jager Aquarium Thermostat Heater 300W
Aqueon Pro Adjustable Heater, 100W
Tetra HT Submersible Aquarium Heater With Electronic Thermostat, 50-Watt
Automatic Shut Off Safety
Preview
Make/Model
Eheim 3619090 Jager Aquarium Thermostat Heater 300W
Automatic Shut Off Safety
Preview
Make/Model
Aqueon Pro Adjustable Heater, 100W
Automatic Shut Off Safety
1. Eheim Jager Aquarium Thermostat Heater
Eheim 3619090 Jager Aquarium Thermostat Heater 300W
Heater is meant for Tanks between 159-264 Gallons.
Size of Heater is 20" X 1.4" Diameter
Fully submersible, will automatically turn off when water level dips too low.
Thermo safey control protects against running dry.
Made of shock resistant and shatter proof glass for fresh or marine water.
On/Off indicator light for at-a-glance monitoring.
With the widest range of power in this list, the Eheim Jager heather can cater to a lot more aquariums than any other heater.
Temperature is adjusted and automatically recalibrated to ensure accuracy, can turn off itself at lower water levels, and comes with safety controls to prevent dryness.
The heater is to be submersed fully and has shockproof and shatter-resistance glass that keeps the fish safe as well as a light for keeping an eye on the tank's condition.
Pros
The variety in sizes and powers makes the product more accessible
Strong, durable material is used to construct it
Automatic controls remove pressure from everyone to always be available for it
Cons
Temperature rises without prompt, endangering the fish
Lack of manual control brings up issues with adjustability
2. Aqueon Pro Adjustable Heater
Aqueon Pro Adjustable Heater, 100W
Adjustable heat setting 68 to 88°F, Electronic Thermostat accurate to +/- 1°
Shatterproof and nearly indestructible
Fully submersible; Auto Shut-Off when over-heats, resets when it cools down
LED light is always on: red when heating, green when not heating
Limited Lifetime warranty
This is another one of Aqueon's submersible heaters that carry similar features to its sister models.
Power and sizes range from 50W to 250W with temperature-adjusting technology (68 to 88 degrees Fahrenheit).
A new addition to this product is the improved accuracy of its thermostat by one degree.
It also has an LED light that indicates with red and green colors when the heating is on and when it has been automatically switched off.
The product is said to be shatterproof which is important for the safety of the fish.
Pros
Lifetime warranty provides security to the customer
Advanced heating technology that adjusts itself automatically
Range of power works well for a large set of aquariums that vary in sizes and volumes
Cons
Has malfunctions that can be life-threatening to fish
Inconsistent performance overall
3. Tetra HT Submersible Aquarium Heater
Sale
Tetra HT Submersible Aquarium Heater With Electronic Thermostat, 50-Watt
All Tetra HT heaters have indicator lights to let you know when the heater is on. It will be red when heating and green when the proper temperature has been reached.
The HT10 uses a built in electronic theromstat to automatically maintain water at 78° F which is ideal for most tropical fish. No adjustment is requried.
Ideal for aquariums between 2 to 10 gallons with hoods or glass canopies
The HT heater is fully submersbile and can be installed vertically or horizontally. It's small footprint makes it easy to conceal behind plants or other décor.
Please read all label information upon delivery. DO NOT plug heater into an electrical outlet until it is placed inside the aquarium.
This product comes with an electronic thermostat with indicating lights (red and green) that will show the condition of the tank.
This heater is recommended for glass aquariums carrying between 2 and 10 gallons of water.
It can be installed easily anywhere in the tank as it can be hidden due to its compact size.
Due to its convenient size, the Tetra HT is the most bought aquarium heater on Amazon.
Pros
Compact and easy to set up
Designed expertly with an electronic thermostat
Does not require a lot of maintenance
Cons
Does not let temperature to be adjusted manually
There are reports of temperature malfunctioning, nearly killing the invertebrates
4. Aqueon Preset Heater
This is a submersible heater that comes in varying sizes and powers (50W, 100W, 150W, 200W).
It is preset to 78 degrees Fahrenheit which is recognized as the ideal temperature for most fish.
It comes with automatic settings to shut off after detecting a high temperature.
These sensors are installed to make sure the tank does not overheat and compromise the fish.
The heater is also shatter-resistant and comes with an LED light and a year-long warranty.
Pros
Shatter resistance makes the product durable
Variety of power and size accommodates both small and large tanks
Economical
Cons
Temperature settings cannot be changed from 78 degrees Fahrenheit
Heating may not be effective in some cases
5. Aqueon Submersible Aquarium Heater
Aqueon Submersible Aquarium Heater
Precise temperature setting to 1-degree F (68-88 degrees F)
Recommended for aquariums up to 20- Gallons
Shatter-resistant construction, fully submersible
LED light turns on when aquarium water is being heated; Automatic safety shut off and overheat protection
Lifetime Limited Warranty
Equipped with some of the features also found in the Preset Heater, this submersible heater comes in more sizes and powers (starting from 50W and going all the way to 300W).
One of the key differences from the Preset Heater is that this one comes with upgraded temperature preset technology, which allows up to 1 degree change.
It also comes with a lifetime warranty, although it is limited.
Pros
Temperature setting upgrade gives user control
Variety in sizes and powers increased
Warranty provides security
Compact sizes make for easier fitting inside the tank
Cons
Many reported malfunctions that include burning out
6. U-Picks Aquarium Heater
The U-Picks heater comes with a wide array of exciting features.
The temperature can be controlled from the buttons on top of the heater within a range of 68-94 degrees Fahrenheit.
It also maintains itself automatically.
The heater is protected by double-sealed quartz glass to make it safe for the fish and during the installation process.
The heater is also created to ensure electric shock safety.
Some precautions are given with the product.
Pros
Safe to use
More control to user to determine temperature
Quartz glass is a good addition to the product
Cons
Temperature does not always remain at the prescribed setting
Requires to be put near an area with circulation or else it will not work efficiently
7. FLUVAL E 300-Watt Advanced Electronic Heater
Sale
Fluval E300 Advanced Electronic Heater, 300-Watt Heater for Aquariums up to 100 Gal., A774
Aquarium heater with dual temperature sensors provide accurate and real-time water temperatures
LCD temperature display available in both Fahrenheit and Celsius; with a range of 68 to 93 degrees Fahrenheit
Fast heat technology built with a safety shut-off and integrated fish guard to protect fish and invertebrates
Equipped with a slim profile mounting bracket and colored display alert system
This heater involves dual temperature sensors, LED temperature display in both Fahrenheit and Celsius, and advanced warming technology that comes with fish protection.
The thermometer settings allow a range of 68 to 93 degrees Fahrenheit.
It also comes with a mounting bracket alert system.
The heater comes with a great warranty of 5 years, with a manual that details all instructions.
Overall, the temperature settings are quite advanced and sensitive to small changes.
Pros
Temperature technology is susceptible to small changes and informative to the user
100W to 300W range in product, making it suitable for different aquarium sizes
Higher sensitivity to fish
Well-constructed and durable design
Cons
Multiple malfunctions on the product
Temperature is not maintained at the prescribed setting
8. Pedy Aquarium Heater 300W
This heater by Pedy is one of the highest rated aquarium heaters on Amazon.
It is made from titanium, which ensures that it is durable. It is submersible and equipped with LED temperature viewing along with an electric thermostat heater.
Additionally, it has been made shatterproof and anti-corrosive.
These features together have made this heater a success in the market.
Pros
Smart heater that will shut off once the temperature reaches heights
Relatively cheaper than its competitors, providing similar features
Made from durable and study materials
Much more accurate readings than other thermometers
Cons
Makes a lot of noise when plugged in
9. Zoohi Submersible Aquarium Heater
Zoohi's heater comes with a sophisticated heating system: 300W, 50-60 Hz, 110-120V and 110 L/H flow of water.
This alone makes it stand out among its competitors.
It carries guard systems for the fish as well as a manual shutting off option for the tank.
The temperature is adjustable between 68 and 94 degrees Fahrenheit, with a capacity of 80 gallons being warmed by 300W.
The heater must only be used when fully set underwater.
Pros
Warranty of 1 year
Strong suction cups to hold the glass to the side
A sturdy, durable design and construction
Appropriate safety equipment on heater
Cons
Water made vulnerable to electricity in one case, posing a serious health risk
10. Uniclife HT-6050 Aquarium Heater
This heater only comes in a small size, with a power of 50W which is ideal for small aquariums.
It works well with most freshwater and tropical aquariums no larger than 15 gallons.
The surrounding quartz glass makes the heater shatter-proof, protecting the tank and its inhabitants from being poisoned and electric shocks.
The heater also comes with a stick-on thermometer and a knob on top for adjustment, offering users greater control.
It is a submersible heater with strong cups to support it underwater.
Pros
Advanced design to provide proofing from leakage and damage
Adjustable temperature offers users more control
Temperature is easy to read
Suitable for a wide variety of fish types
Cons
Other Aquarium Heater Tips
There are many other heaters out there that can provide customers with what they need for their aquariums.
Sometimes, what they require is something specific, such as higher temperatures for tropical fish.
There is more to picking out an aquarium heater than selecting the most advanced and best-reviewed one.
Other factors to consider include the following:
Type of Heater
This refers to whether a heater is submersible, substrate or filter.
All three are built for use in a certain way, so there needs to be some care and research involved when picking out a heater.
Power
Most heaters offer a different power for heating than some of their counterparts.
This can also be determined by their sizes (small = less power).
The best way to figure this out is to check your aquarium, which usually indicates what power heater is ideal for it.
If not, an aquarium's capacity can be used to check which heater is the best for use.
Budget
You need to calculate how much you are willing to spend on a heater.
This will require creating a budget that you need to stick to if you are saving up for one.
This does not have to be difficult.
With a little bit of research on the tank size appropriate for reasonably priced heaters, you can find yourself a good deal.
Type of Aquarium
After buying the heater, you need to choose an aquarium that suits the heater, although purchasing a heater that covers heating for multiple water types and animals is always the best situation to be in.
Choices in aquariums include saltwater, freshwater, betta, reef and turtle tanks among others.
Maintenance
For convenience, it is always best to pick heaters that are the easiest to clean and replace when broken.
The best ones are those that, despite breaking, will not harm the inhabitants of the tank and can be taken out without posing a risk to anyone.
Where to Install the Heater
While this is not a complicated question to answer, it is important to take note that most heaters need to be placed somewhat strategically near a circulatory device that keeps the water in the tank flowing.
This way, the heat can warm up all the water in the aquarium.
If not, the heater might not be effective at providing the necessary warmth for the fish.
How to Set It Up
As updated technology is incorporated into aquarium heaters, setting them up is now easier than it might have been before.
There might be specific steps to follow for a select few, but most heaters can be set up by following these steps:
Take your time examining the heater and checking for any leaks or damage. Check the packaging and case to ensure there is nothing inside to deem the product unsafe for use. For example, there should be no wires exposed.
Locate the area where you can install the heater. Make sure it is in contact with circulating water for best results and that the nearby glass is clean.
If your heater is submersible, attach it inside the tank using the suction cups that come with the product. Finalize its position and setting and place all contents such as toys or flora away from the heater.
Once the heater is attached, let it stay inside the aquarium for half an hour with the water. This is recommended to ensure that there are no leaks from the heater when switched on as the heater can adjust to its surrounding temperature and setting.
Before switching on the heater, take a reading of the water, even if it is at room temperature. This is done to ensure accuracy when measuring the temperature rise. Also, adjust the settings on the heater before it is turned on.
Once the heater has been on for around 24 hours, take the thermometer and dip it in the farthest corner from the heater to see if it is working. You will notice a rise in temperature if it is. (These thermometers come with the product in most cases).
Keep checking the heater every few hours to see whether the temperature is regulated consistently.
If the results are positive, add your fish. The reason the fish are added later after the temperature has been regulated is for their health. They might become agitated and unwell because of the fluctuations in the temperature.
Electricity Usage
Since heaters must remain on for the entire day, it is essential to look at how much power they are consuming.
Larger tanks and tropical aquariums will require more power in comparison with small ones.
Thus, more electricity will be used to provide more heat.
Although it is quite difficult to determine how much the electricity bill would be, a rough estimate along the lines of the power usage can be calculated by using the following information.
A tank with 30 gallons of water that is heated at the standard temperatures which aquariums normally demand (around 72°F or 22°C) will end up consuming about 110 kWh.
However, if the same amount of water needs to be warmed up to 82°F or 28°C, the power usage will be something around 440 kWh.
This means that with only a minute increase, the power consumption will quadruple.
Even though this is not completely accurate, it is a good estimate as to how much electricity aquariums require to function efficiently.
By using the size of the aquarium tank and the temperatures provided above for comparison, the power usage trends can be determined.
Aquarium Heater Frequently Asked Questions
This section aims to answer a number of questions all aspiring fish owners might have.
The aim of this section is to clarify any further curiosities and confusions you might have before you can begin working on your own equipment.
[accordions_pickplguins id="45″]
Conclusion
Now you know everything there is to know about aquarium heaters and how to manage them.
You also know what type of materials are used in heaters and what they offer individually as well as how to determine a heater is good enough.
You are also aware of some of the best options in heaters available to you and you have also understood how to install one carefully.
Furthermore, you have learned a number of other things regarding aquarium heaters such as electrical outputs and how to get the best value out of them, where and how to place an aquarium with its heater, and why these devices are important.
This extensive knowledge will allow you to make informed choices about the kind of aquarium experience you desire to build for yourself.
From learning about temperature to types of heaters, submersible and otherwise, you can now be responsible for your very own fish tank.