What Size Fish Tank Should I Get?
Choosing the right size of fish tank is imperative not only for your budget allocation but also for the fish species you are buying it for. A number of considerations to keep handy while deciding on the size of fish tank you should buy are as follows:
Budget
How much you can invest in a fish tank depends largely on your available budget. If your budget does not allow expenditure as big as that required by a large aquarium, you cannot do so unless you come across affordable aquarium options.
The decision to buy an aquarium is not a one-time expense; it's recurring. You will be required to make investments on repair, maintenance and food and livestock to feed your fish.
Fish
Your decision to invest in a small fish tank or large aquarium also depends on the type of fish you are planning to keep. A few large and aggressive fish species cannot be limited to small fish tanks. If you have surgeonfish or angelfish in mind, a small fish tank is off the list. Additionally, if you are fascinated by coral reefs and the desire to keep multiple fish species together, a large aquarium is what you need.
However, for the amateur aquarist, a small start seems to be a great idea with fish species such as black tetra, common molly and platy.
Hence, your decision regarding the size of fish tanks is based on which animals you are willing to keep in it.
Space
This is yet another crucial factor that will determine the size of the fish tank you will choose to buy. If you have ample space for keeping a large aquarium at home, good enough! If not, go for smaller fish tanks that take up little space and are easy to move and maintain.
Larger aquariums can be difficult to move around and if you are residing in an apartment on the 5th floor, you are more likely to break it on your way to your home. Thus, choose a size according to how much space you want the fish tank to occupy while considering where you live.
Big Fish Tanks vs Small Fish Tanks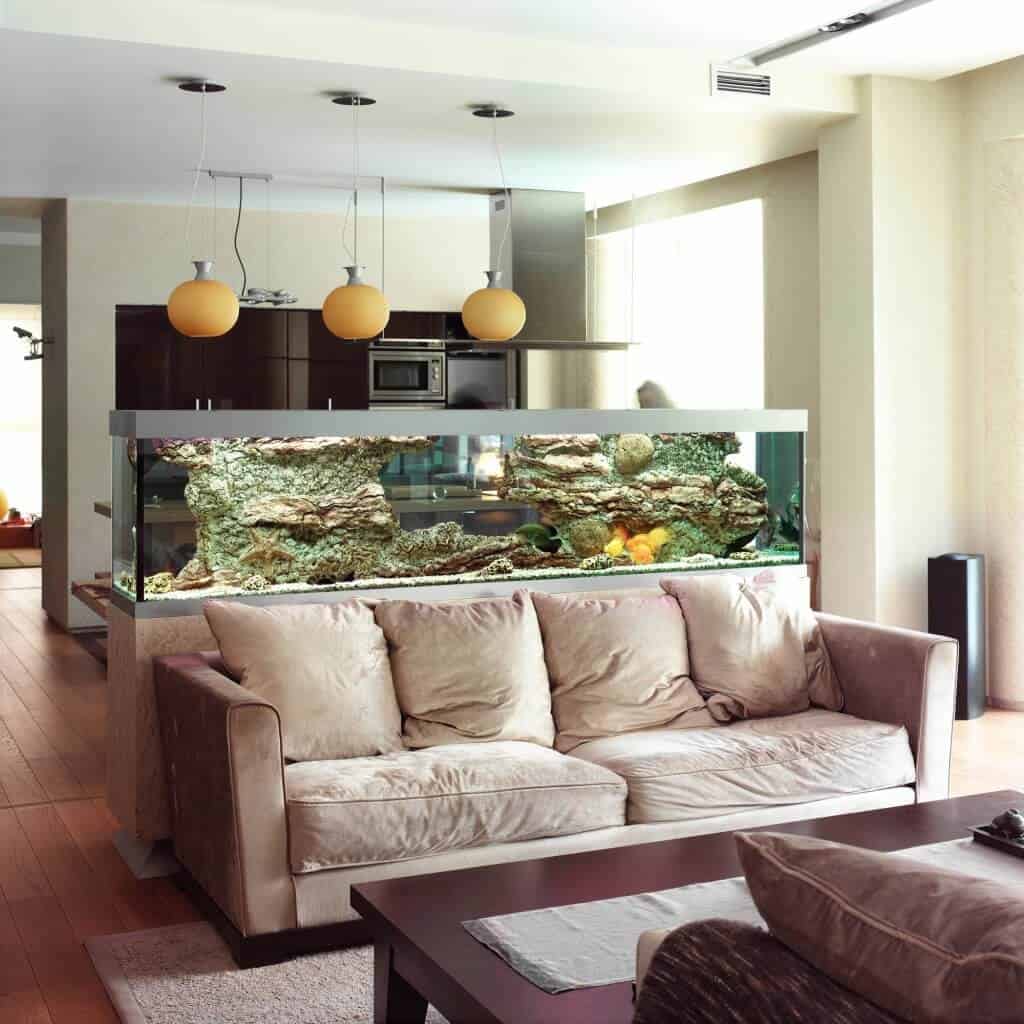 Now, let's consider the differences in large aquariums and smaller fish tanks to decide which size seems to be the optimal choice based on the various factors identified above.
Maintenance
For a large aquarium, changing the water can be a tough job and with an aquarium, partial and full water changes are necessary to ensure a clean and healthy environment for the fish and plants within.
However, with small fish tanks, you may need to change water more frequently than with a large aquarium, which is also a time-consuming process. If you choose to overstock your small fish tank, it will require more frequent water changes as compared to a larger tank.
Maintenance costs are hefty when it comes to large aquariums if there is more than normal wear and tear each month. In case of smaller tanks, maintenance costs are comparatively friendly on the wallet.
Noise Pollution
Large aquariums are operated with the help of sophisticated equipment that can add to noise pollution around the house. There are external filters, airstones, and pumps that can be noisy. However, a solution to all this noise is under-gravel filters. These filters can mitigate the external noise with the help of internal powerheads.
In case of a small fish tank, there is not much noise created anyway, so noise pollution is an alien concept.
Hence, if you don't want a lot of noise in your home and would like some peace and quiet while keeping fish, a small fish tank is what you should go for. However, if noise is not much of a problem for you, a large tank would be no hassle.
Number of Fish
Large aquariums are costly to purchase, install and maintain, but they also have ample space to house a lot of fish. You can keep an assortment of different species, coral reefs, and plants in a large tank. Not only this, but a large tank can also be used as a display case for your collections, animal, insects or any other thing for that matter.
If you are worried about keeping 50 gallons of water in a house with kids, wait a few years before using the aquarium for anything other than a display case. Your investment will pay off when your kids are of the appropriate age to handle a large fish tank.
Small fish tanks can also function as displays but won't be spacious enough to hold more than a few of your collectibles. Nonetheless, they are easy to manage, maintain and keep around kids.
Problems Associated with Small Fish Tanks
Small fish tanks, despite their many benefits, come bearing a few issues that have been discussed below.
Limited Growth
This is a pretty self-explanatory issue with small fish tanks. Small fish tanks can only accommodate smaller fish species, and your fish will only grow as big as the size of your tank. This is especially true for goldfish, which fails to grow beyond a certain size if kept in a small tank. As for all other fish species, in order to avoid limiting growth, choose fish that can only grow to a size smaller than the tank you have chosen.
Shorter Lifespans
Keeping fish in smaller fish tanks and overcrowding them could lead to reduced lifespans. This occurs because of two reasons. Smaller spaces cause fish to become more stressed and overworked, so they expire soon. Furthermore, such a tank may lead to organ failure among fish if the space is too cramped.
Aggression Builds Up
Keeping too many small fish in one tank causes anxiety, stress, and aggression in them. Coexistence among fish is similar to humans, and aggressive fish could end up harming other defenseless and scared species.
Fish Tank Sizes and Weights
If you are wondering about the size and weight ratio of different tanks, the following information will come in quite handy.
Small Aquarium
A 2.5-gallon fish tank has an empty weight of 3 lbs. and a filled weight of 27 lbs.
A 5-gallon fish tank has an empty weight of 7 lbs. and a filled weight of 62 lbs.
A 10-gallon fish tank has an empty weight of 11 lbs. and a filled weight of 111 lbs.
A 15-gallon fish tank has an empty weight of 21 lbs. and a filled weight of 170 lbs.
A 15-gallon high fish tank has an empty weight of 22 lbs. and a filled weight of 170 lbs.
Medium Aquarium
A 20-gallon fish tank has an empty weight of 25 lbs. and a filled weight of 225 lbs.
A 25-gallon fish tank has an empty weight of 32 lbs. and a filled weight of 282 lbs.
A 29-gallon fish tank has an empty weight of 40 lbs. and a filled weight of 330 lbs.
A 30-gallon fish tank has an empty weight of 48 lbs. and a filled weight of 348 lbs.
A 40-gallon fish tank has an empty weight of 58 lbs. and a filled weight of 458 lbs.
Large Aquarium
A 50-gallon fish tank has an empty weight of 100 lbs. and a filled weight of 600 lbs.
A 55-gallon fish tank has an empty weight of 78 lbs. and a filled weight of 625 lbs.
A 65-gallon fish tank has an empty weight of 126 lbs. and a filled weight of 772 lbs.
A 75-gallon fish tank has an empty weight of 140 lbs. and a filled weight of 850 lbs.
A 150-gallon fish tank has an empty weight of 308 lbs. and a filled weight of 1800 lbs.
Fish Tank Placement
Once you have decided which fish tank size suits you the most, it's now time to decide where to place it in the house. You must have identified a space prior to making a decision regarding size, but a few of the following factors must be accounted for when choosing to place an aquarium.
Place the fish tanks close to an electrical socket to avoid entangled wires.
Place the tank close to water access for quick and easy water change.
Keep the fish tank in a peaceful and quiet environment to avoid over-stressing and scaring the fish.
Temperature stability is imperative, and keeping fish tanks in a place that observes temperature hikes is not recommended.
Your fish and corals do not require direct sunlight because aquariums come equipped with built-in LED lighting that mimics both daylight and moonlight that is required for growth.
Conclusion
There is no 'right' or 'wrong' size. It all comes down to what you feel is the optimal size of the fish tank that fits your budget and can bring you the joy of an aquatic life within your home.
Have more questions?  Be sure to visit our community forums.