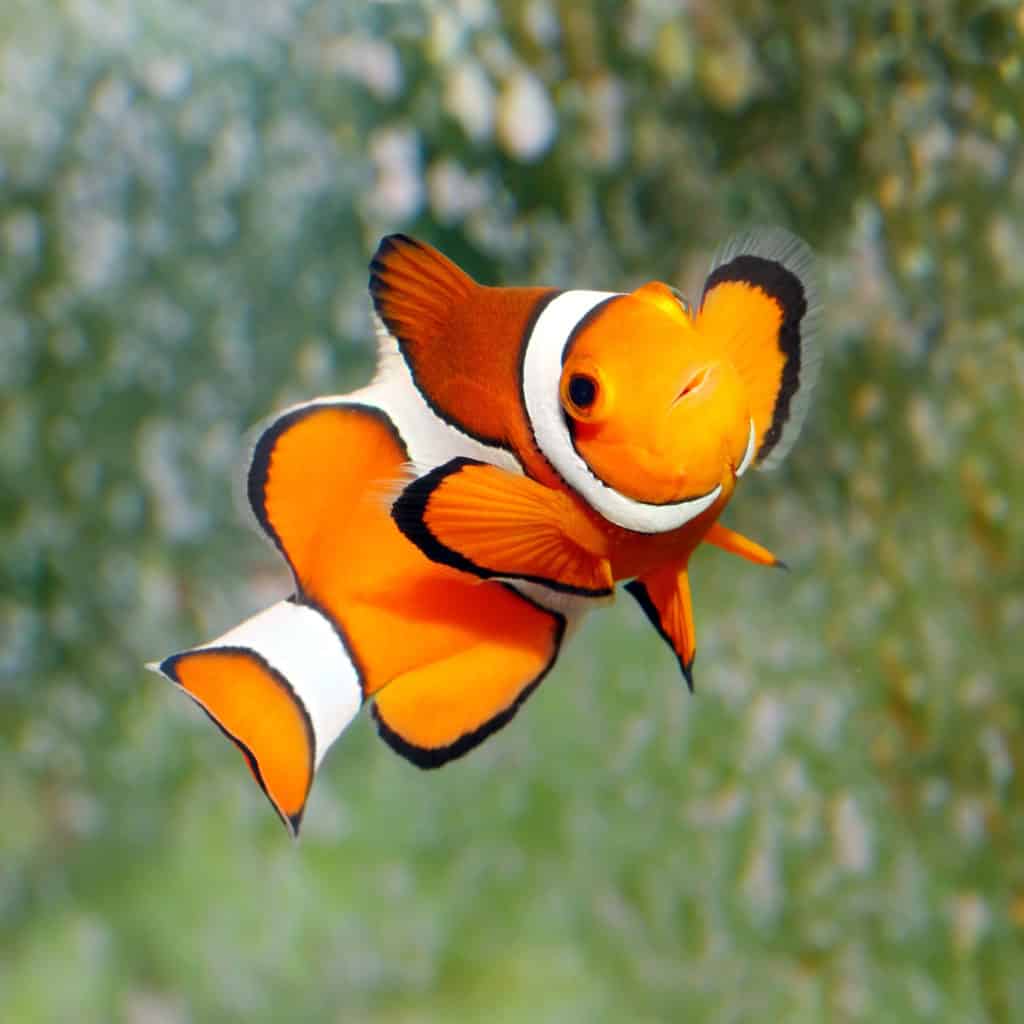 Saltwater clownfish require more maintenance than your average freshwater fish aquariums.
Their dietary requirements are more diverse, which is why they need a variety of food in their daily intake.
However, as it is with all fish, you can't let yourself get carried away and overfeed them.
Clownfish also like to take up space.
If you are keeping more than one clownfish, you will need a big aquarium to give them enough space to move around freely.
Clownfish, however, are one of the easiest saltwater fishes to take care of.
Their resilience and comparatively low maintenance requirements make them ideal for people who are new to saltwater aquariums.
If you have just got a clownfish or are thinking of getting one and want to know how often you'll have to feed it; read on to find out what you can feed your little friends and how often you should feed them.
How often should you feed your clownfish?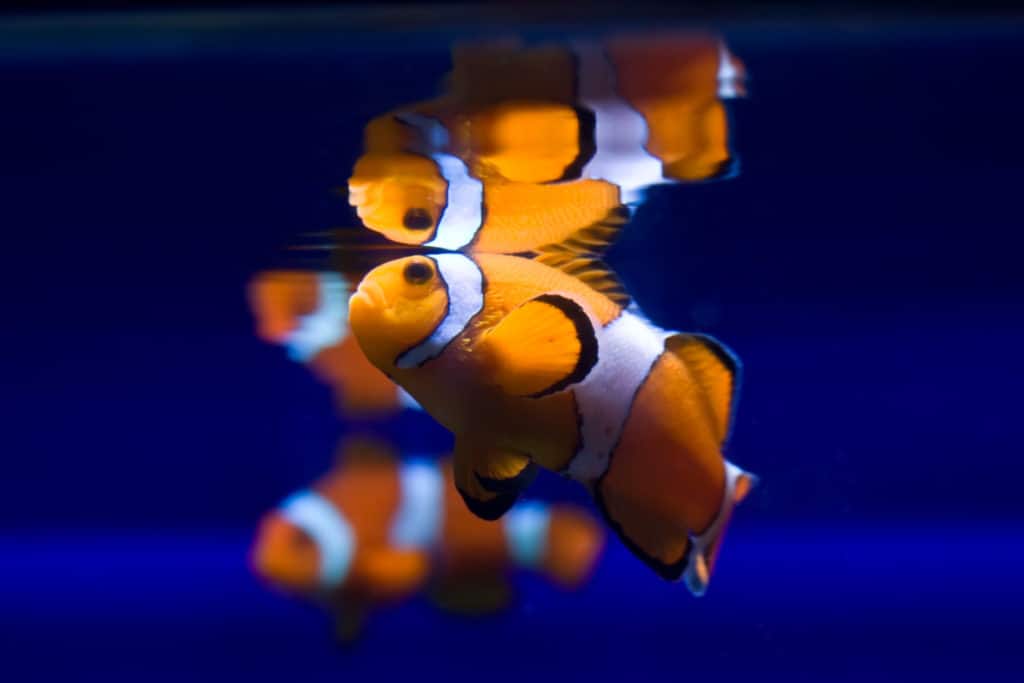 A clownfish will always look hungry and try to probe at your heart with its own rendition of puppy dog eyes.
If you keep feeding your fish because "it keeps wanting more", your fish will suffer.
It is very easy to overfeed your fish.
Feeding clownfish in the right quantity is not a difficult task.
But if you're new to this, it might help to keep a schedule to make sure you're giving them no more or less than what they need.
It's a simple task so I have made an easy schedule that you can keep up with.
Here's a simple schedule that you can follow to keep your clownfish healthy and happy.
Morning
Evening
Night
Regular days
2-3 pellets
2-3 pellets
1-2 pellets (if you're feeling generous)
Treat days

(every other day or twice a week)

2-3 pellets
2-3 bite sized potions of live food or veggies
Diet per day: 4-6 pellets or 3-4 flakes of fish food.
For live food and veggies: Break the cube or veggies down to small pieces having the size of pellets or flakes.
Feed these the same amount as you would with pellets.
To keep your clownfish happiest, you should split the food in different parts throughout the day.
Some clownfish owners like to spread the feeding out into 5 or 6 parts and give little food to the fish in intervals.
While that is fine, spreading it out into 2 or 3 parts works just as well.
However, this is not that big of a deal.
If you are going out for the day and are worried about your fish's diet, you can simply put the day's diet into the tank in the morning.
What can a clownfish eat?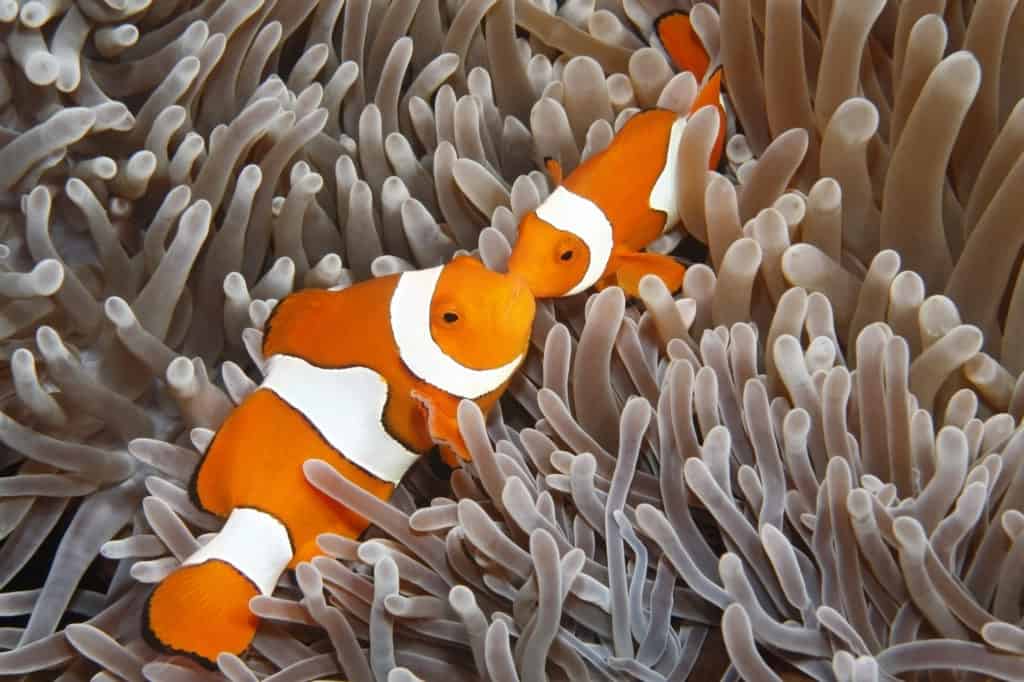 Clownfish aren't picky eaters; they can eat almost all kinds of fish food.
You won't have a problem getting food for your clownfish as they can eat flakes too which is not that common of a trait in saltwater fishes.
However, since these are carnivorous fish, you want to make sure that they get the required amount of nutrient from their diet.
You can feed your clownfish regular fish food on normal days and break the routine by adding some other varieties.
In order to make sure your fish gets all the required nutrients, add variety to its diet.
You can feed it brine and live food occasionally as well, like krill, Mysis, or shrimp.
You can also get frozen live food for your fish to make feeding it easier.
Clownfish also eat vegetables, so make sure you add some of those in their diet too, like spinach or nori.
You can find both spinach and nori at your local grocery store.
If this seems like a lot of dietary varieties to keep up with, simply feed your clownfish with regular pellets or flakes and twice every week give it some veggies or live food.
Now that you know what your clownfish can eat, how much should you feed it?
If you have ever had fish before or have friends who keep fish, you must have heard how easy it is to overfeed fish.
How to feed your clownfish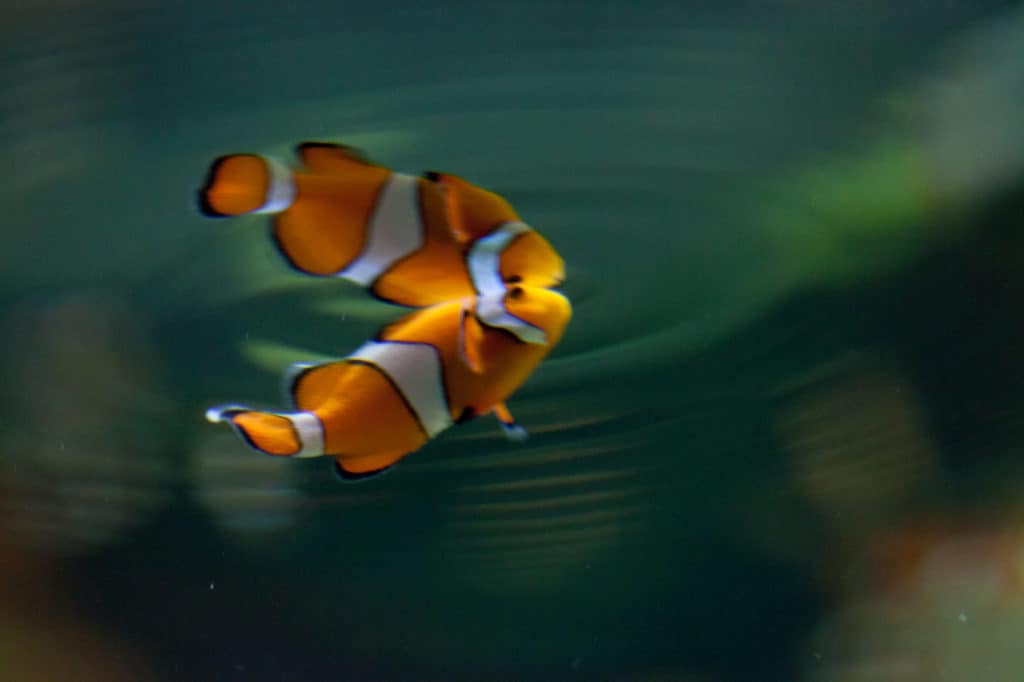 Among saltwater fish varieties, clownfish are one of the easiest to take care of.
If you feed your clownfish regularly, you can easily go without feeding them for a week and they won't die on you (this must only be put to test in extreme situations where there is no other way to feed the fish).
Clownfish also love variety.
Allowing your fish to have different kinds of food will not only let it have all its nutrients but will also keep it from getting bored with the same old fish pellets every day.
Clownfish are predatory fish, so a fun way to feed your fish can be to scatter the food around the surface of the tank.
If the tank has a water current generator, even better!
Clownfish love running around chasing food as it appeals to their predatory nature.
Keeping it varied
Keeping the diet of your clownfish varied is very important.
Clownfish are carnivorous animals and want a healthy diet that gives them all the nutrients they need.
Following a schedule to ensure that your fish gets to have premade fish food, live food, brine, as well as vegetables will help you stay on track with your fish's needs.
Anemones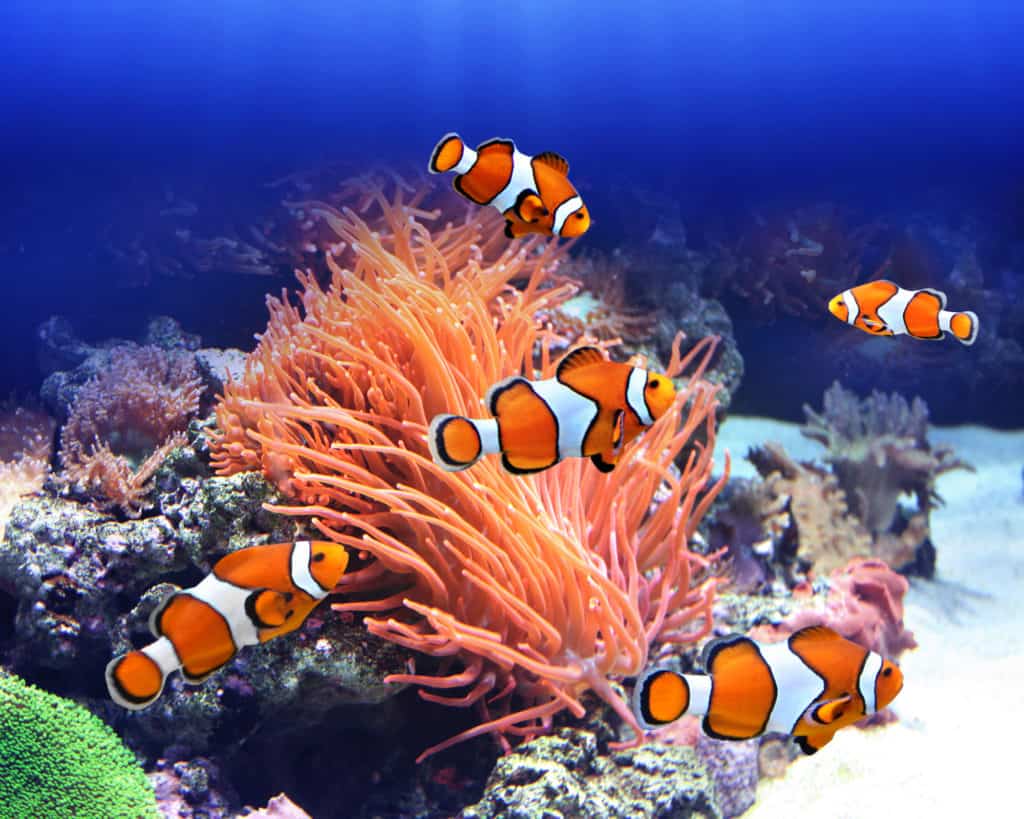 Often, in natural waterbodies, clownfish live in anemones.
Anemones are flowering plants, species of which exist underwater.
In their natural habitat, clownfish often get their vegetable nutrients from anemones.
This raises the question of whether you should keep an anemone in your aquarium as a home for your clownfish.
If you want to, you can!
Many clownfish owners swear by it that clownfish cannot thrive without anemones.
While that is actually not the case, it still doesn't mean that you can't get one for your pet to make them feel more comfortable.
However, often times, taking care of the anemone gets trickier than taking care of the clownfish.
Also, every clownfish species has its own type of anemone that its compatible with.
Anemones – how do they help clownfish?
Clownfish are predatory animals.
While this predatory nature means that they love chasing other tiny creatures around, it does not mean they don't love their own little safe spot.
If a clownfish is compatible with the anemone species, it will mark its territory and create a home for itself in the nodes of the anemone.
The floating tentacle type protrusions of the anemone allow the clownfish to feel safe from threats.
The clownfish also feed on the food waste of the anemone.
Clownfish and anemones have a symbiotic relationship: the clownfish takes benefit from the characteristics of the anemone.
This allows it to fulfill its nutritional requirements.
However, you do not need anemones to help your clownfish thrive in your aquarium.
Simply giving it a good diet, some friends its compatible with, and enough places to explore and hide will keep it growing and happy.
Other considerations for keeping clownfish happy
Feeding your fish on time and in the right quantity is not the only thing you need to do to keep them happy.
There are a lot of other things you need to be careful of as well.
For example, the quantity of water and the presence of other fish and plants.
Creating a good environment for your fish has a huge impact on its happiness and health.
Here's how you can make sure your fish is getting the best environment according to its needs:
Water Quantity
Your clownfish should have ample space to move around freely.
Clownfish are predatory animals and thrive in large spaces which allow them to move around comfortably and explore their predatory nature.
This is why your tank should be big and should be able to hold at least 150 liters of water.
You can also put in shells and artificial plants to give your clownfish enough hiding spaces; this will make them feel safe especially when they are new in the tank and are just getting to know their environment.
For every additional clownfish you add to your aquarium, you should have about 75 more liters of water.
It is best not to hoard too many clownfish in the same amount of space.
This can make your clownfish aggressive towards each other and the increased environmental stress will have a negative effect on their health.
Keeping the nitrates down
Nitrates build up in the water over time and the buildup increases when you over-feed your fish.
Replace around 40% from your fish tank with new water every few weeks to make sure the amount of nitrates stays in check.
Following the feeding schedule will also help keep the nitrates level curbed.
Surround them with other clownfish
Clownfish love being in the company of other fish.
They react well to a community lifestyle and quickly adapt to the presence of other fish they are compatible with.
In fact, they thrive in a community environment.
This is why having small, peaceful fish in your aquarium will be a good idea.
While clownfish are carnivores, there are many species of small fish that clownfish can coexist within a good manner.
Invertebrates are a good option to have in your tank with clownfish.
One species of clownfish is a little aggressive and may attack other smaller fish: the maroon clownfish (Premnas biaculeatus).
This clownfish should only be kept in the company of large hardy fishes about the same size as them.
While clownfish sound like tough creatures who know how to fend for themselves against threats, keeping them with fish greater than their size is not a good idea.
The bigger fish may pose harm to your clownfish.
Smaller invertebrates of the same size are a perfect option.
Conclusion
Clownfish are a great water pet to have for people who are just starting out with saltwater aquariums.
Taking care of freshwater aquariums is different than saltwater aquariums and are often termed as easier to do by many fish enthusiasts.
This is why, before stepping into the area of saltwater aquariums, starting out with a fish that is easier to take care of is a smart decision.
Your clownfish will stay healthy if you follow the instructions given above and will most likely not cause problems for you.
With fish, the best policy is to not bother them too much.
Clownfish are generally low-maintenance animals and do well on their own.
Feed them regularly, keep their habitat clean, and create a compatible environment for them.
They will be repaying you with their health and happiness.